A Muslim terrorist is holding up a café in Australia and has hostages. Consider. More than 150 Australians, many of Lebanese descent, have joined jihadists fighting in Iraq and Syria, of course many of these Muslim  posed a danger to Australia on their return. We are seeing the fruits of that today.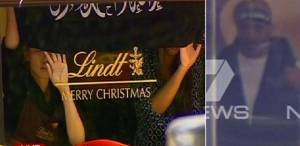 Witnesses had early described how a Muslim man wearing a headband covered in Arabic walked into the cafe and produced a shotgun from a blue bag at around 9.45am.
Shortly afterwards hostages were seen with their hands pressed against the windows holding up the Shahada flag belonging to the extremist group Jabhat al-Nusra, which is fighting the Assad government in Syria.  Shahada is the Islamic chant slogan Muslims say during prayer.
There are claims that the Islamic terrorist is also armed with a machete and may have explosives. One of the hostage-takers has made contact with officers saying that he has 'devices all over the city' and 'wants to speak with the prime minister live on radio', according to Ray Hadley, from 2GB.
Lindt Australia CEO Steve Loane estimated there are up to 50 people being held inside, but NSW Police Deputy Commissioner Catherine Burn said on Monday afternoon they believed there were less than 30 hostages in the cafe.
Armed police have sealed off streets around the cafe and Martin Place station is shut. Planes have been diverted away from the city centre.
The incident began just hours after a 25-year-old Muslim suspect was arrested in a terror raid in Sydney.
NSW Police Deputy Commissioner Catherine Burn said police negotiators had made contact with the Muslim hostage-taker and three people were now safely with police.
'They are now out of the building and are with police. First thing we're doing is making sure they're okay. We will work with these people to find out some more information. The information I have is that no one has been harmed of injured,' she said.
Earlier, NSW Police Commissioner Andrew Scipione said: 'We have moved to a footing that would be consistent with an Islamic terrorist event'.
CLUELESS: "Tony Abbott: 'We don't know the motivation,'"Guardian, December 15, 2014:
Officers are not currently dealing directly with the hostage-taker and they are still trying to work out the motivation for the situation said Tony Abbot.  — Yes, just ignore that black flag of Islamic jihad that the hostages were forced at gunpoint to hold up at the window. We have no idea what its significance could possibly be! But we do know that it has nothing, nothing whatsoever, to do with Islam! which of course is simple, its a few Muslims following their Qu'ran.
Queensland's police commissioner Ian Stewart says he has information an improvised explosive device may be involved, but Mr Scipione was unable to confirm that.
'This is a difficult day for everyone. I can confirm to you we have an armed Muslim terrorist holding an undisclosed number of hostages in the city,' Mr Scipione said.
'Police have been in attendance and have controlled the situation from very early this morning shortly after it was advised. We are at this stage continuing to secure and do all we can to ensure this goes to a peaceful outcome.'
There are some people who are not well. They've been in there for five hours, they're distraught,' he said.
'I'm not in a position to comply with requests that have been made, I can't.
'The media can't play a role in negotiating with people purporting to be from Islamic State holding hostages in a cafe in Sydney. This is the job of authorities to solve htis problem.
'They want us to say things that we simply can't say.'
Witnesses have described the chaotic scenes in Martin Place as the area was shut down and scores of police surrounded the building.
Lindt Australia issued a statement via its Facebook page over the siege situation.
'We are deeply concerned over this serious incident and our thoughts and prayers are with the staff and customers involved and all their friends and families,' they said.
NSW Premier Mike Baird said the public and police in Sydney were being tested by the events of the siege.
'But whatever the test, we will face it hear and we will remain a strong democratic civil society,' he said.
It was alleged that a Muslim terrorist Omarjan Azari, a 22-year-old Sydney man arrested on terrorism charges in September, was planning a public beheading in Martin Place, the same location as this cafe.
The  terror plot, mentioned in a conversation between Australian terrorism recruiter in Syria, Mohammad Ali Barylei and Azari, involved selecting a member of the public at random, beheading them and then covering their body in a flag.
The whole incident was going to be filmed, and then used as propaganda for the ISIS cause.
Federal prosecutors said the terror plot was 'clearly designed to shock, horror and terrify the community'
Police Prosecutor Michael Allnutt said that Azari had made a threat which involved a 'random selection of persons to execute' during a telephone conversation with Baryalei.
Azari was arrested on September 18 and charged with preparing for an act of terrorism.
He is due in court this week for a bail application.
The flag being held up in the window of the cafe is believed to be a Shahada flag, which is used by the group, Jabhat al Nusra.
Jabhat al Nusra was formed in January 2012, in the Syrian civil war to fight the Syrian government forces.
Jabhat al Nusra, or JN, aims to overthrow the Assad regime and replace it with a Sunni Islamic state.
Although the group is affiliated with al-Qaeda, Jabhat al-Nusra does not emphasize Western targets or global jihad, focusing instead on the 'near enemy' of the Syrian state.
Martin Place is one of Sydney's busiest streets and is at the centre of the CBD. The Lindt cafe where the hostages are being held specialises in chocolate and has a number of branches across the city.
Last year ASIO said it had "investigated several hundred mostly Australia-based individuals who are advocates of a violent Islamist ideology".
It is important to stress that some Muslims are peaceful. But it is also true that Muslim immigration has exposed Australians to a level of danger — including extraordinary gun crime in Western Sydney — that immigration from India, Europe and China has not.
21 Muslims here jailed for terrorism offences in Australia in the past years, at least 11 were born in Lebanon or to Lebanese parents, including a ringleader of the 2005 Pendennis plot to attack Sydney targets.
The conclusion is irresistible: the more Muslim immigrants we admit, the more likely a terrorist event like this would happen eventually.  Islamic culture today includes a jihadist ideology so strong that 17 of the 18 terrorist groups banned in Australia are Islamic.
If the Muslim(s) inside the coffee shop is going to harm the hostages (my bet is that he's got explosives, perhaps even a machete in his back pack) he'll probably do it when Europe/Syria wakes up in a few hours, maximizing the shock effect by carrying out his grizzly deeds on live TV for audiences overseas.
Maybe he'll behead as many hostages as possible and then set off the explosives when the SWAT team/SAS team enter the premises.
The Australian  Prime Minister said he would detain returning jihadists,  restricting Muslim immigration would give them fewer Terrorist to worry about.
That may seem discriminatory, but if Islamic leaders can't stamp out jihadism we may have to defend ourselves as best we can he said.
[youtube O1R84M9rOa4 nolink]
Reports: One of the Muslim terrorist has been ARRESTED in the Lindt Chocolat Cafe Hostage Drama in Martin Place, Sydney, other terrorist may still be inside the cafe.
[youtube E1N33fYsjZU nolink]