Seven in 10 people (70%) find selling or buying a home stressful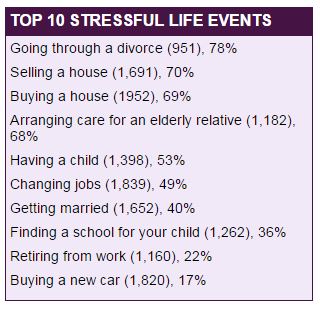 Nearly eight in 10 (78%) find getting a divorce stressful
It might be the mortgage jargon, rocketing prices or fears of a much sought-after deal collapsing but buying or selling a home is the second most stressful event after getting a divorce, a new survey has showed.
About seven in 10 people who have bought or sold a home have found it nerve-wrecking, the biggest source of stress except for getting a divorce, which is considered trying by nearly eight out of 10 people.
Having a child, changing jobs and arranging care for an elderly relative are all said to be less stressful than getting involved in the property market, according to a survey of 2,000 people by Which? Mortgage Advisers.
Some 69 per cent of people who have bought a house said it was a stressful process, just a bit less than 70 per cent of those who had sold their home.
David Blake at Which? Mortgage Advisers said: 'We're a nation obsessed with homeownership, but when it comes to buying or selling, our research shows that it can be an incredibly stressful process.'
The survey asked people who had bought or sold a home in the previous five years whether they found it stressful and to name any other life events which they also found tough.
Taking care of an elderly relative ranked high among trying life experiences, with 68 per cent of those who had been through it finding it taxing.
But having a baby had been stressful for just over half of people interviewed, while 49 per cent of people who had changed job felt this way. Some 40 per cent of those who have got married found the event stressful, according to Which?
Among the least stressful life events were finding a school for their child and adapting to not work once hitting retirement, with 36 per cent and 22 per cent respectively having found such events stressful.
Buying a car was the least stressful, with only 17 people saying they found it so.
Which? Mortgage Advisers said gaining knowledge about the process of buying or selling a home can help to make it less stressful. They also said it is important to consider service, not only cost, when choosing a lender.