So the Democrats call Hispanics, taco bowls.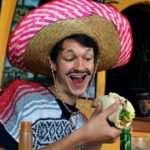 DNC uses their own words to destroy themselves. This is what they think of their supporters.
Hours before the DNC Convention convenes, this email is found within the Wikileaks email blast sent out on Friday and it comes straight from the DNC.
Please explain how the DNC referring to Hispanics as "Taco Bowl Engagement" is Russia's fault?

— 100%TrumpSupporter (@Jan2017Trump) July 24, 2016
Taco bowl?? It's a good thing leftists aren't racist. ???????????????? https://t.co/DTryIHo9fu

— Peter Deacon (@AmerPatriot1) July 23, 2016
https://twitter.com/NubianAwakening/status/756913505169772544/photo/1
How do yall mexicans feel about your support for democrats being referred to as "taco bowl engagement"?? ????

— Catarino (@johnfkennedyx) July 24, 2016
@AmericanMex067 Have you seen the #DNCleak email where DNC Staffer wants to "mop up some more taco bowl engagement"? The Dems disgust me!

— Trump Gal (@Mitt_Fit) July 24, 2016
#DNCinPHL #DNCCORRUPT Glad I'm not a DEMOCRAT, distasteful TACO BOWL'S, shows what DEMS really think about Hispanics, nothing but a vote.

— Iretta Bobbitt (@ibobbitt) July 24, 2016
The DNC is imploding. And it's more fun to watch than an episode of Krapdashians. Their lying and double-crossing ways are finally exposed. What else would you expect from a party that supports a pathological liar?