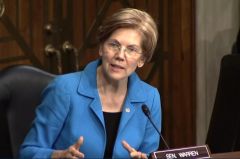 (CNSNews.com) – The absurdity of Sen. Elizabeth Warren (D-Mass.) making a big deal out her minuscule Native American heritage continues to reverberate on Twitter.
Sen. Orrin Hatch tweeted, "These DNA tests are quite something." He joked that he is 1/1032 T-Rex: "The rest: other dinosaurs."
The Onion retweeted: "Elizabeth Warren Disappointed After DNA Test Shows Zero Trace Of Presidential Material."
"Who cares?" was President Trump's initial reaction on Monday. Later that day, Trump said he certainly does not owe Warren an apology: "She owes the country an apology," the president said.
Asked about the million dollars Trump said he would donate to Warren's favorite charity if a DNA test proved she is Native American, Trump said on Monday: "You mean if she gets the nomination, in a debate, where I was going to have her tested? I'll only do it if I can test her personally. Okay? That will not be something I enjoy doing, either."
Then, in three tweets Tuesday morning, President Trump said Warren's claims of Indian heritage are nothing but "a scam and a lie."
— Thank you to the Cherokee Nation for revealing that Elizabeth Warren, sometimes referred to as Pocahontas, is a complete and total Fraud!
— Now that her claims of being of Indian heritage have turned out to be a scam and a lie, Elizabeth Warren should apologize for perpetrating this fraud against the American Public. Harvard called her "a person of color" (amazing con), and would not have taken her otherwise!
— Pocahontas (the bad version), sometimes referred to as Elizabeth Warren, is getting slammed. She took a bogus DNA test and it showed that she may be 1/1024, far less than the average American. Now Cherokee Nation denies her, "DNA test is useless." Even they don't want her. Phony!
Other Twitter users noted that Warren's DNA stunt hasn't done her presidential ambitions any good, although one person joked that "when hell freezes over, she might get a job at the Bureau of Indian Affairs."
The Cherokee Nation's Secretary of State Chuck Hoskin Jr. issued a statement reacting to Warren's DNA test results:
A DNA test is useless to determine tribal citizenship. Current DNA tests do not even distinguish whether a person's ancestors were indigenous to North or South America. Sovereign tribal nations set their own legal requirements for citizenship, and while DNA tests can be used to determine lineage, such as paternity to an individual, it is not evidence for tribal affiliation.

Using a DNA test to lay claim to any connection to the Cherokee Nation or any tribal nation, even vaguely, is inappropriate and wrong. It makes a mockery out of DNA tests and its legitimate uses while also dishonoring legitimate tribal governments and their citizens, whose ancestors are well documented and whose heritage is proven. Senator Warren is undermining tribal interests with her continued claims of tribal heritage.
Meanwhile, Warren herself engaged in a tweet-storm Monday, issuing, at first, a ha-ha tweet at Trump:
"By the way, @realDonaldTrump: Remember saying on 7/5 that you'd give $1M to a charity of my choice if my DNA showed Native American ancestry? I remember – and here's the verdict. Please send the check to the National Indigenous Women's Resource Center: http://www.niwrc.org/donate-niwrc"
Warren linked to a Boston Globe article saying she likely had a "pure" Native American ancestor some 6 to 10 generations ago, making her between 1/64th and 1/1,024th Native American.
As the day wore on and the hilarity grew over Warren's video explanation of her DNA results (she titled the video "Elizabeth Warren's Family Story"), a frustrated Warren issued tweet after tweet slamming Trump.
Here's a sample:
— We all know why @realDonaldTrump makes creepy physical threats about me, right? He's scared. He's trying to do what he always does to women who scare him: call us names, attack us personally, shrink us down to feel better about himself. It may soothe his ego – but it won't work.
— I won't sit quietly for @realDonaldTrump's racism, so I took a test. But DNA family history has nothing to do with tribal affiliation or citizenship, which is determined only – only – by Tribal Nations. I respect the distinction, don't list myself as Native in the Senate.
— Bottom line: My heritage played no role in my hiring – ever. The @BostonGlobe reviewed all the evidence. Their verdict? "At every step of her remarkable rise in the legal profession, the people responsible for hiring her saw her as a white woman."
— If @realDonaldTrump – a cowardly elitist who has never known or cared what life is like for anyone who's ever lived outside of a skyscraper in Manhattan – wants to talk about authenticity, well then, let's talk about who's REALLY pretending to be someone they're not.
Trump has mocked Warren as "Pocahontas" and "Fauxcahontas," and her DNA test results are not likely to make that mockery any less effective.
Source material can be found at this site.