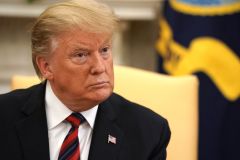 (CNSNews.com) – A New York Times report that the FBI used an informant to spy on the Trump campaign through former Trump campaign advisor George Papadopoulos is a bigger story than Watergate, President Donald Trump said Friday.
During a meeting with Slovak Prime Minister Peter Pellegrini, Trump was asked about World Press Freedom day and how he can improve communications in his relationship with the press.
Trump said he has a "good relationship" with certain members of the press, but others are inaccurate in their reporting of the president.
"I think I have a very good relationship with some of the press, and unfortunately, some of the press doesn't cover me accurately. In fact, they go out of their way to cover me inaccurately, so I don't think that's a free press. I think that's a dishonest press, and I want to see a free press," he said.
"Today I was happy to see on the front page of the New York Times for the first time where they were talking about spying, and they were talking about spying on my campaign. That's a big difference between the way they've been covering, but that's a big story. That's a story bigger than Watergate as far as I'm concerned," the president said.
"So I want to see freedom of the press, and I get treated fairly by some press, but I get treated very unfairly by other press, and frankly, I think that's very dishonest, and I don't consider that. When you have stories that are purposely written badly in many cases very much on purpose. I mean you look at it. That's not free press. That's the opposite of free press," he said.
Asked whether he has decided to invoke executive privilege as it relates to former White House counsel Don McGahn, Trump said, "That'll all be determined over the next week or so, but I will say this.
"There's been no president in history that has given what I've given in terms of looking at just a total witch hunt. I call it the Russian hoax. It turned out to be. No collusion. No obstruction. It was a total hoax, and yet, I was transparent. We gave 1.4 million documents," he said.
"We gave hundreds of people. I let him interview the lawyer, the White House lawyer for 30 hours. Think of that – 30 hours. I let him interview other people. I didn't have to let him interview anybody. I didn't have to give any documents. I was totally transparent, because I knew I did nothing wrong. It turned out I did nothing wrong – no collusion with Russia," Trump said.
"Think of it $35 million they spent, they wasted over a period of two years. No collusion, no obstruction," he said.
Trump said he had "a very positive conversation" with Russian President Vladimir Putin on Venezuela – a conversation that took place for over an hour. They talked about many things. He said Putin is not looking to get involved at all except to "see something positive happen" for the country.
"I feel the same way. We want to get some humanitarian aid. Right now, people are starving. They have no water. They have no food. This is, Mr. Prime Minister, one of the richest countries in the world 20 years ago, and now they don't have food, and they don't have water for their people. So we want to help on a humanitarian basis, and I thought it was a very positive conversation I had with President Putin on Venezuela," Trump said.
When asked whether the president addressed Russian election meddling issues that came up in the Mueller report with Putin, Trump said that they discussed it, and Putin "actually sort of smiled when he said something to the effect that it started off as a mountain and it ended up being a mouse, but he knew that because he knew there was no collusion whatsoever.
"So pretty much that's what it was," Trump said. "So we had a good conversation about many different things."
When asked whether he told Putin not to meddle in the next election, Trump said, "We didn't discuss that. Really, we didn't discuss it. We discussed five or six things. We also, we went into great detail on various things, especially, I would say the nuclear, especially maybe Venezuela. We talked about North Korea at great length. Pretty much that's it, also discussed trade.
"We intend to do a lot of trade with Russia. We do some now. It's up a bit, but he'd like to do trade, and we'd like to do trade. And getting along with Russia and China, getting along with all of them is a very good thing, not a bad thing. It's a good thing. It's a positive thing – getting along with other countries, including your country by the way, but getting along with countries is a good thing. And we want to have good relationships with every country," he said.
As to whether special counsel Robert Mueller should testify, Trump said he didn't know and that it's up to Attorney General William Barr, who the president said "has done a fantastic job."
Source material can be found at this site.