Things are getting bad nationwide, New York has shocking video of the police being dragged through the streets by violent leftist.
The "mostly peaceful protesters" are dragging cops through the streets in Chicago. pic.twitter.com/M9kP7cPlcH

— Brandon Darby (@brandondarby) May 31, 2020
Police were being blocked by terrorist rioters as they attacked the police car, police had to force their way through to not be pulled out of the police cars by rioters.
Wtf!!! #BlacklivesMaters #brooklynprotest pic.twitter.com/S1oet8JC0x

— Pierre G. (@pgarapon) May 31, 2020
Oh my god. What is the @NYPDnews doing? pic.twitter.com/rZayr421pJ

— Rob Bennett @ ? (@rob_bennett) May 31, 2020
Rioters decided to throw things as this old mans car and attack him, he stopped and got out with a bow and arrow.
He survived the attack and did a recent interview.
The violence is spreading nationwide, ironically even in lest Hollywood elites backyard.  The leftist Hollywood cronies were cheering on the rioters until the hit their shopping grounds.
Rodeo Drive is being attacked, Gucci was ransacked and looted.
GUCCI STORE ON RODEO DRIVE BEING LOOTED AND DESTROYED pic.twitter.com/D9ls5Y0fSb

— The_Real_Fly (@The_Real_Fly) May 31, 2020
Rodeo Drive #BeverlyHills boarding up their windows for tonight's #protest in the fight for #JusticeForGeorge #BlackLivesMatter #ihearyou pic.twitter.com/WUuXPQfYfQ

— Kate Neilson (@KateNeilson333) May 30, 2020
They out there twerking and having whole professional photo shoots at the #BlackLivesMatter #protest in #LA ? The protestors have also made their way to #RodeoDrive ? pic.twitter.com/YvCDZuB16A

— thetrue100 (@thetrue100media) May 30, 2020
Mike Tyson responded and took down the post a few hours later, the rioters did not seem to like what he has to say, he has since deleted this post.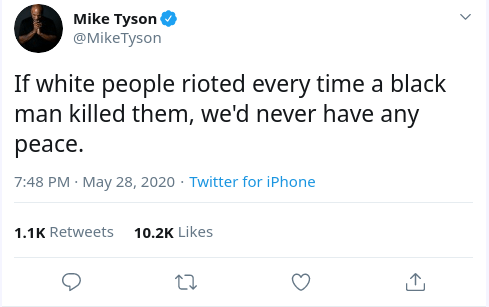 Leftist Terrorist destroy a police car and steal the rifles from inside.
Just watched a man with a handgun take an assault rifle from a young man on live tv in Seattle #seattleprotest pic.twitter.com/Xm2yCYNxeJ

— Shawn Garrett (@ShawnGarrett) May 30, 2020
Be carful #seattleprotest pic.twitter.com/JvhjNWDo7u

— Eric Haas (@erichaas__) May 30, 2020
This rioter thought it was a good idea to assault a police officer, she thought wrong.
.@BaltimorePolice just knocked out a Black woman in downtown. pic.twitter.com/OwMkzm9w0B

— Kwame Rose (@kwamerose) May 30, 2020
Breaking: A video shows smoke billowing from Seattle as riots continue in the area. Multiple police cars and a Nordstrom have been set on fire. A curfew in the city started at 5 PM. pic.twitter.com/cGpo4P6ErZ

— PM Breaking News (@PMBreakingNews) May 31, 2020
— introvertador (@introvertador) May 31, 2020
looting in Seattle pic.twitter.com/iCELpBBC6n

— US Riot Updates (@QuarantineTrac1) May 30, 2020
#seattleprotest Nordstrom and cop cars on fire. pic.twitter.com/88KQYCPIsJ

— Molly Rae (@SweetMollyRae) May 30, 2020
The LAPD beating protesters with batons and shooting rubber bullets directly into the crowd. It's BAD in Los Angeles. You can see the girl with the black top get injured… This started as a #BlackLivesMatter peaceful protest. UNREAL. #LosAngelesRiots #GeorgeFloyd pic.twitter.com/iAbwUGNQFW

— Brayden James (@BrayJ83) May 30, 2020
Some of y'all need to stay home. ???????#losangelesriots pic.twitter.com/FhvpdqNUtI

— $ HOTEP MONEY $ (@HotepMoney) May 31, 2020
#LAProtest: #LAPD ???? swinging batons like it's batting practice in the big league! Wow.

The guy in the brown hat took it like a champ ?. #protests #GeorgeFloyd #Riots#LosAngelesriots #PROTESTERS #LosAngelesProtest #Minneapolis pic.twitter.com/io9o2h1YdC

— Mike Dixon (@dixon_sports) May 30, 2020
This is Riots?? Destroying and stealing all of people's hard work!! Small local businesses!? My friends and families bussiness were all destroyed. Things were stollen. I hope all of those who were a part of this get what they deserve. Fuck All Y'all.#DowntownLA #LosAngelesriots pic.twitter.com/xZNcKVk6Cw

— Bianccaa? (@biianccaa_) May 30, 2020
This is Los Angeles moments ago. A police officer grabbing a civilian and then other protesters jump in and beat the officer. These are people of ALL races…Not just African Americans. These riots are happening simultaneously around the country. #LosAngelesriots #GeorgeFloyd pic.twitter.com/UILnFe4CMh

— Brayden James (@BrayJ83) May 30, 2020
Scenes from Atlanta tonight… pic.twitter.com/0nxlqZX3Kp

— Alternative News (@NewsAlternative) May 31, 2020
U.S has a deadliest police culture in the modern world. There is no nation on the planet that kills and incarcerates more of its people.#BLACK_LIVES_MATTER#GeorgeFloydProtests#??????_????? pic.twitter.com/vQBBUQ9XOX

— Mohammad javad omidali (@JavadOmidali) May 31, 2020
Husband and wife beaten by protestor for defending their store from looters…#GeorgeFloydProtests #BLACK_LIVES_MATTER #riots2020 #DallasProtests #BlackLivesMatter #protests #protest #mineapolis #protesters pic.twitter.com/6VLTmoxYSf

— EttNamn (@HZLABZ) May 31, 2020
Who would have thought this is not a scene from Joker?#BlackLivesMatter #BLACK_LIVES_MATTER #GeorgeFloydProtests pic.twitter.com/GdUzzvM3HR

— ?Movie Critique and Review? (@MCR_NG) May 31, 2020
It's was meant to be a protest against police brutality which I fully support but I can't get behind this craziness ??#GeorgeFloydProtests pic.twitter.com/v1rdwQievS

— John Ripple (@JohnRipple17) May 31, 2020
Looks like the Los Angeles Police Department was caught by surprise yesterday and had to flee the scene. Dozens of their cars left behind on the streets… #GeorgeFloydProtests pic.twitter.com/PBs7dwH0sZ

— BasedPoland (@BasedPoland) May 31, 2020