President Trump's chief of staff said that  criminal indictments will result from U.S. Attorney John Durham's wide-ranging inquiry into the origins and conduct of the Trump-Russia investigation also known as Obamagate.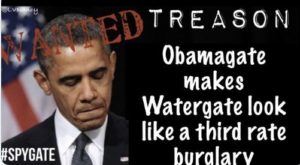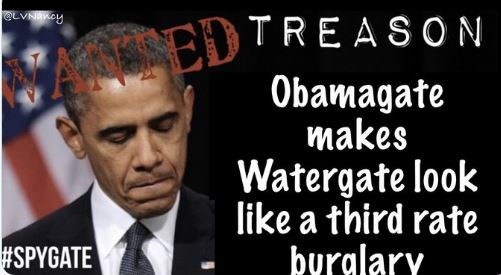 Mark Meadows, who took over as chief of staff in late March after serving as a North Carolina congressman since 2013, told Maria Bartiromo of Sunday Morning Futures on Fox News that, based on what he'd seen, he believes people involved in the investigation into Russian interference and alleged collusion with the Trump campaign will end up with charges being leveled against them by Durham, the federal prosecutor handpicked by Attorney General William Barr to lead the investigation of the investigators.
The Trump chief of staff also said that new, damning details would be made public soon, just a couple days after Republic Senate Judiciary Committee Chairman Lindsey Graham of South Carolina released newly-declassified documents, which cast doubt on the veracity of British ex-spy Christopher Steele's dossier and undercut the Russian collusion narrative pushed by some in the media.
"I think the American people expect indictments — I know I expect indictments based on the evidence I've seen. Lindsey Graham did a good job in getting that out. We know that they not only knew that there wasn't a case, but they continued to investigate and spy, and yes, I use the word 'spy,' on Trump campaign officials and actually even doing things when this president was sworn in and after that and doing it in an inappropriate manner," Meadows said.
"You're going to see a couple other documents come out in the coming days that will suggest that not only was the campaign spied on, but the FBI did not act appropriately as they were investigating," he added. "It's all starting to unravel, and I tell you, it's time that people go to jail and people are indicted."
Durham was appointed by Barr last year to investigate the origins of the Crossfire Hurricane investigation and the conduct of the intelligence officials and law enforcement investigators involved in the Trump-Russia investigation. His investigation has since morphed into a criminal probe. Republicans have looked to Durham to send former Obama officials to jail for the alleged illegal targeting of Trump's campaign and presidency, while Democrats have decried Durham's investigation as a political stunt aimed at helping Trump.
Graham released two documents declassified with the help of Barr on Friday. The first document was a 57-page transcript of the FBI's interviews with Steele's primary subsource in January 2017, which contradicted numerous claims made the dossier and undercut the FBI's case against Trump campaign associate Carter Page.
A second document showed typed notes from now-fired FBI special agent Peter Strzok harshly criticizing a New York Times report from February 2017. Strzok criticized Steele and repeatedly disputed the leaked claims in the piece alleging contacts between Trump associates and Russian intelligence.
Richard Grenell, the former acting director of national intelligence, who oversaw the country's 17 intelligence agencies from February through May, said last week that the evidence of those early "red flags" warning about Steele's dossier being inaccurate and possibly being compromised by Russian disinformation could and should be released in the near future.
A former senior intelligence official with knowledge of the situation told the Washington Examiner that the records made public by Graham on Friday were only some of the classified records alluded to by the former acting spy chief and said Grenell had started the declassification process for the other documents but that it wasn't guaranteed that those other records would be made public.
DOJ Inspector General Michael Horowitz's lengthy December report criticized the DOJ and the FBI for at least 17 "significant errors and omissions" related to the Foreign Intelligence Surveillance Act warrants against Page and for the bureau's reliance on Steele's unverified dossier. Steele put his research together at the behest of the opposition research firm Fusion GPS, funded by Hillary Clinton's presidential campaign and the Democratic National Committee through the Perkins Coie law firm.
Declassified footnotes now show that the FBI was aware that Steele's dossier might have been compromised by Russian disinformation.
Robert Mueller's special counsel investigation concluded that Russia interfered in 2016 in a "sweeping and systematic fashion" but "did not establish" any criminal conspiracy between the Russians and the Trump campaign.
DOJ spokeswoman Kerri Kupec said last week that while a report is not "the goal" of Durham's criminal investigation, she expected Durham would release such a report by the end of the summer.
"It is stunning, and here's the interesting thing: It's not only that it wasn't true, the problem is they knew it wasn't true," Meadows told Bartiromo on Sunday. "And when you know something is not true and you continue the investigation, that's collusion, that's the kind of thing that we must stop, and that's where we need to hold people accountable."