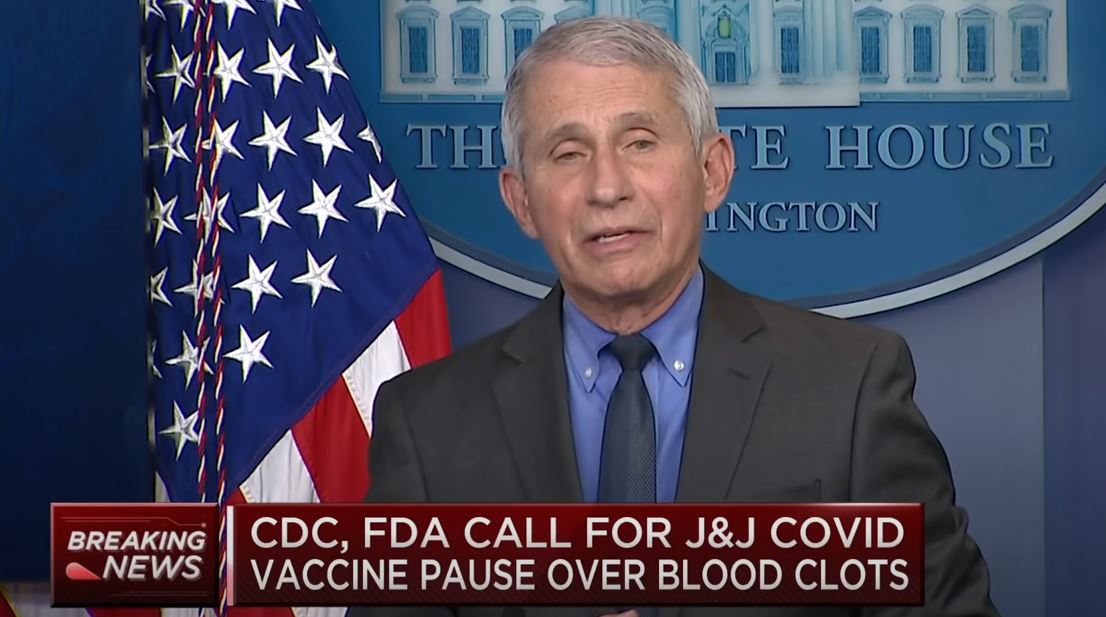 The Biden administration called for a 'pause' in administering the Johnson and Johnson COVID-19 China coronavirus vaccine Tuesday morning. The FDA and CDC, citing six reports of blood clots in women aged 18-48–including one fatality–out of about seven million administered vaccines, called on states to 'pause' the JJ vaccine while the problem is studied. The similar AstraZeneca vaccine deployed in Europe has faced similar rare clotting issues. The New York Times was first to report on the 'pause'.
Following the news Dr. Fauci held a presser with the Biden team and warned women to "be alert" if they took the JohnsonJohnson vaccine.
Advertisement – story continues below
But these same doctors want Americans to continue to line up for the coronavirus vaccine.
TRENDING: Kamala Harris: Black Women in the US Are More Likely to Die in Connection with Child Birth Because of Racism and Implicit Bias (VIDEO)
But hydroxychloroquine is too dangerous?
Advertisement – story continues below
The Daily Mail reported:
Dr Anthony Fauci has warned women who have had the Johnson Johnson vaccine to be alert for symptoms of an adverse reaction, as U.S. health agencies advise against the vaccine's usage until more research can be done.

On Tuesday the Centers for Disease Control and Prevention (CDC) and the Food and Drug Administration (FDA) recommended a halt in the use of JJ's jab.

Their recommendation was made after six people, out of the 6.8 million to receive the jab so far, reported blood clots. All were women aged 18-48.

JJ announced that they were also delaying the rollout of their vaccine in Europe, and pausing clinical trials.

Advertisement – story continues below

Fauci appeared on CBS News on Tuesday night and said that people who had received the JJ jab in the last 13 days should be alert to warning signs.
Fauci warns women who received the Johnson Johnson vaccine in last 13 days to 'be alert to symptoms' as scientists investigate whether birth control pills played part in blood clots https://t.co/BKb5IujyDv

— Jack Posobiec (@JackPosobiec) April 14, 2021
Source material can be found at this site.