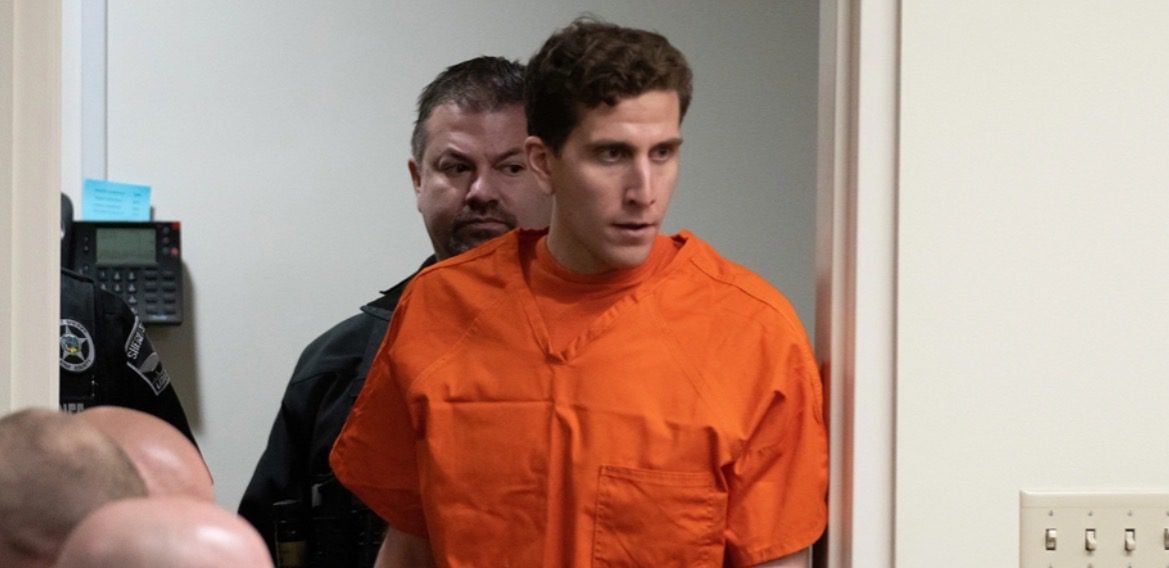 Accused killer Bryan Kohberger enters Idaho courtroom
Latah County prosecutors this week disclosed information about an "internal affairs investigation" against an officer in the case against accused murderer Bryan Kohberger.
Bryan Kohberger, 28, is accused of fatally stabbing 20-year-old Ethan Chapin of Conway, Washington; 21-year-old Madison Mogen of Coeur d'Alene, Idaho; 20-year-old Xana Kernodle of Avondale, Arizona; and 21-year-old Kaylee Goncalves of Rathdrum, Idaho on November 13.
Murder victims from left: Kaylee Goncalves, Ethan Chapin, Xana Kernodle, Maddie Mogen
According to the court documents, Kohberger's DNA was found on a tan leather knife sheath left behind on Maddie Mogen's bed on the 3rd floor at the King Road Residence.
"The sheath was later processed and had 'Ka-Bar' 'USMC' and the United States Marine Corps eagle globe and anchor insignia stamped on the outside of it," Idaho police officer Brett Payne wrote in the 19-page affidavit. "The Idaho state lab later located a single source of male DNA (suspect Profile) left on the button snap of the knife sheath."
Pennsylvania unsealed search warrants that revealed a number of items seized by law enforcement from Bryan Kohberger's parents' home during a December 30 raid.
Authorities seized black gloves, a Glock, a knife (possibly the murder weapon?), black face masks, 'green leafy substance' in a plastic bag and other items.
Police also seized parts of Bryan Kohberger's white Hyundai Elantra.
Tire irons, a shovel, floor mats, a door panel, seats and seat cushions, headrests, seatbelt, brake pedal, gas pedal, a band-aid and other items were seized from the vehicle.
Prosecutors on Monday sent "potential Brady/Giglio material" related to an officer to Kohberger's public defender.
"Brady material refers to information that could potentially be exculpatory for a defendant, meaning it could prove his or her innocence. Giglio material pertains to information that could impeach the credibility of a witness – in this case, an officer who worked on Kohberger's case." Fox News reported.
The judge granted a protective order to hide the material from the public so it is unclear if the officer's misconduct is related to Kohberger's case.
NBC News reported:
Idaho prosecutors disclosed evidence to Bryan Kohberger's legal team Monday that they say involves an internal affairs investigation into an officer who was part of the University of Idaho murder case.

The state filed a request for a protective order to keep the investigation out of the public, saying it wished to disclose the investigation as "potential Brady/Giglio material." It's unclear what the internal affairs inquiry involved, when it was launched or how central the officer was to the college murder investigation.

Prosecutors made Monday's disclosure under the state's Brady law obligations, which require a prosecution to disclose evidence that might be beneficial in a suspect's case. Brady material could include evidence that goes against a witness' credibility, according to Cornell Law School.
More on the Brady/Giglio material from NewsNation:
Kohberger could face a firing squad if convicted since Idaho's governor just signed a new law that brought back the method of legal execution.
Trending: James O'Keefe Strikes Again! O'Keefe Media Group Exposes MASSIVE Democrat Party Money Laundering Scheme in US Elections
Click here to read the probable cause affidavit and read through and analysis.
Click here to read the unsealed search warrant on Bryan Kohberger's Pullman, Washington apartment.
The preliminary hearing is scheduled for June 26 at 9 am.
Source material can be found at this site.