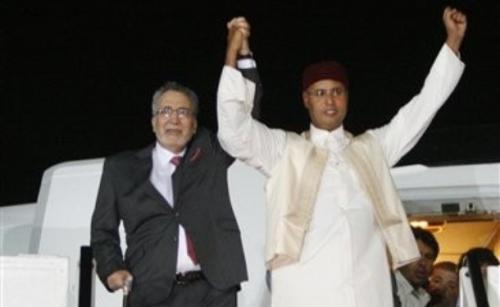 The son of Libyan dictator Colonel Gadaffi is to celebrate the first anniversary of the terrorist Lockerbie bomber's release by giving a party for him.
Saif Gadaffi, whose friends include Tony Blair and Lord Mandelson, will attend the revelry for Abdelbaset Ali Mohmed Al Megrahi in his two-storey house in Tripoli.
He will foot the bill for food and drink, following a day's fasting during the Islamic holy month of Ramadan.
When convicted terrorist Megrahi, 58, was released on August 20 last year, Scottish authorities said he had only three months to live and was 'going home to die'.
Frank Duggan, a lawyer and spokesman for the families of the 270 victims of the Lockerbie bombing, said: 'Megrahi is obviously still deemed a hero in Libya, where are the moderate Muslims in Libya?
'Saif Gadaffi was instrumental in pulling off a public relations masterstroke to get him released on the 40th anniversary of the Libyan revolution.
'We understand the celebrations are meant to be more low key this time.'
Mr Duggan added that the victims' relatives did not want to focus on Megrahi on August 20 and were instead looking forward to a wedding between two of them the next day.
Megrahi's arrival in Tripoli from Scotland last year was met by scenes of jubilation.
He was showered with rose petals by supporters who waved the Scottish flag.
Libyan authorities have insisted they want to avoid a repeat of the international revulsion sparked by Megrahi being treated to a hero's homecoming.
Instead, they will 'pray' to 'give thanks' for those who freed Megrahi, the then Prime Minister Gordon Brown and Scottish Justice Secretary Kenny MacAskill.
A spokesman for the Libyan leader said: 'He does not want wish to cause offence in other parts of the world, especially in Britain and America.'
The survival of Megrahi has cast doubt on the prognosis that he had just three months to live.
Yesterday Professor Karol Sikora, who was paid by the Libyan government for his medical opinion, said he felt uncomfortable with how his advice had been used by politicians.
The leading cancer specialist said he would have been 'more vague' if he had known that his theory that Megrahi would die within three months would be interpreted as fact.
Saturday's wedding in New Jersey is between Sonia Stratis, 28, and Chris Tedeschi, 33, who met at an event to commemorate the 1988 bombing of Pan Am Flight 103.
Miss Stratis was seven when her father Elia was killed in the attack, and Mr Tedeschi's father later married widow Kathy Daniels, whose first husband Bill was aboard the doomed jet.
Mr Tedeschi, 33, an advertising executive, said: 'There is a lot of sorrow and sadness thinking about Megrahi's release but I will let God bear the weight of that.'