A Sunday Times investigation says that Irananian companies in Kabul are being used funnel money to Taliban militants.
The Sunday Times report requires a subscription, but Fox News outlines the strategy this way: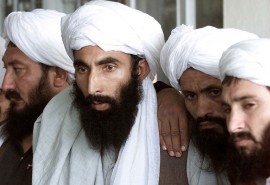 The Iranian companies win contracts to supply materials and logistics to Afghans involved in reconstruction. The money often comes in the form of aid from foreign donors.
Profits are transferred through poorly regulated Afghan banks — including Kabul Bank, which is partly owned by President Hamid Karzai's brother Mahmood — to Tehran and Dubai.
From these countries, the money returns to Afghanistan through the informal Islamic banking system known as hawala to be dispersed to the Taliban.
The report quotes an Afghan intelligence official saying "It makes it harder for us to trace the cashflow."
In addition to $1,000 for every dead U.S. soldier, a Taliban treasurer told the Sunday Times that they get $6,000 for each U.S. military vehicle they destroy.
NBC News reporter Tom Aspell talked to a Taliban contact who said "Officially, we take no money from the Iranians." Officially.