Presidents have always on many holidays and commemorations of events made statements recognizing them. Which are largely perfunctory and symbolic gestures, many about events or holidays that nobody cares about.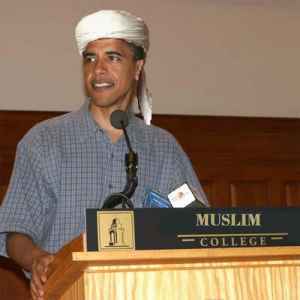 The White House has never forgot to release statements recognizing the observance of major Muslim holidays and released statements in 2010 on Ramadan, Eid-ul-Fitr, Hajj, and Eid-ul-Adha, but Easter… well that's another story.
The White House certainly did release an eight-paragraph statement heralding Earth Day. Likewise, the president's weekend address forgot to mention both Good Friday and Easter.
Fox News first caught the blunder and put it into context that makes the omission insulting to Christians. The mistake is odd enough to call into question just what Obama's priorities are.
Obama, Fox notes, did head out to church yesterday and held an Easter prayer breakfast at the White House last week.
Obama is on a roll for religious holiday greeting forgets Easter!
Last year in 2010, Obama was criticized for releasing an all-inclusive Easter greeting. He reached out to Jews, Muslims, Hindus, and people of no faith at all in a statement about a holiday that is uniquely Christian. This year he just completely omitted saying any greetings at all.
The president did release a Passover greeting this month, and then went to compare the ancient Jewish exodus from Egypt to the current Arab political awakening this year. Which would be a beautiful thing if most Arabs didn't seek Israel's destruction and total annihilation.
The president is, of course, hosting the Easter Egg Roll at the White House today. But Easter isn't really about rolling eggs on a manicured lawn, now is it? White House Press Secretary Jay Carney suggested Obama's "high profile" visit to a church Sunday should suffice.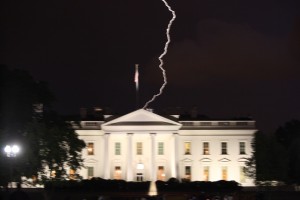 Oddly at about 8:30pm Easter night the Whitehouse had a storm rapidly materialized in the Southern sky, and swept from the National Mall toward the White House. Instantly, there seemed to be lightning bolts dropping out of the heavens all around 1600 Pennsylvania Avenue, a subtle message to Obama from the above?