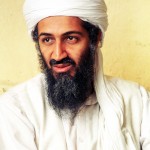 WASHINGTON – Al-Qaida mastermind Osama bin Laden is dead and the United States has his body, a person familiar with the developments says.
President Barack Obama is expected to make that announcement from the White House late Sunday night.
The person spoke on the condition of anonymity in order to speak ahead of the president.
His death brings to an end a tumultuous life that saw bin Laden go from being the carefree son of a Saudi billionaire, to terrorist leader and the most wanted man in the world," writes Dean Schabner at ABC News, also confirming news of bin Laden's death.