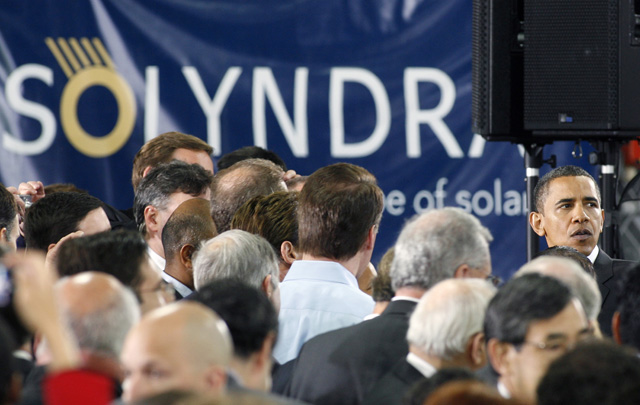 In a damning report, The Washington Post details its investigation of President Barack Obama's much-hyped green jobs program. Its findings? Politics, not policy, underpinned the White House's calculations. From The Post report:
Meant to create jobs and cut reliance on foreign oil, Obama's green-technology program was infused with politics at every level, The Washington Post found in an analysis of thousands of memos, company records and internal ­e-mails. Political considerations were raised repeatedly by company investors, Energy Department bureaucrats and White House officials.
A centerpiece of the Obama Administration's green jobs program, of course, was Solyndra, a solar power company based in California that was the beneficiary of a $535 million taxpayer-funded loan guarantee. That company went bankrupt last summer, leaving about 1,100 people out of work. The Washington Post writes that as Solyndra started to head toward bankruptcy last year, documents reveal that the White House's focus was on the President's re-election, not on taxpayers, workers, or alternative energy, more broadly:
[Documents] show that as Solyndra tottered, officials discussed the political fallout from its troubles, the "optics" in Washington and the impact that the company's failure could have on the president's prospects for a second term. Rarely, if ever, was there discussion of the impact that Solyndra's collapse would have on laid-off workers or on the development of clean-
energy technology.

"What's so troubling is that politics seems to be the dominant factor," said Ryan Alexander, president of Taxpayers for Common Sense, a nonpartisan watchdog group. "They're not talking about what the taxpayers are losing; they're not talking about the failure of the technology, whether we bet on the wrong horse. What they are talking about is 'How are we going to manage this politically?'?"
The Post's other findings? The White House granted "easy access to venture capitalists with stakes in some of the companies backed by the administration," many of whom were Obama campaign donors. And others were given jobs in the Administration and "helped manage the clean-energy program." What's more, senior officials "pushed career bureaucrats to rush their decision" on the Solyndra loan in order to coincide with a visit by Vice President Joe Biden. The Post also reports that politics, "optics," and political theater were at the top of the Administration's mind, with one staffer writing that "a meltdown" at Solyndra "would likely be very embarrassing for DOE and the Administration."
Of course, The Post's report isn't the first time the President's green jobs program has come under fire. Congress subpoenaed the White House for documents pertaining to the Solyndra loan guarantee, and the Department of Energy's Office of Inspector General is "is investigating more than 100 potential instances of criminal abuse of stimulus loan monies," according to a Daily Caller report. Even The New York Times reported that the President's promise to create 5 million green jobs over 10 years has proven to be nothing more than "a pipe dream."
Fortunately, some in Congress are taking action. A Senate proposal would outlaw Solyndra-style loan guarantees by preventing the Department of Energy from subordinating taxpayers to private investors in the repayment of federally guaranteed loans.
Obama's Green Jobs Program "Infused with Politics at Every Level"

,
Source material can be found at this site.