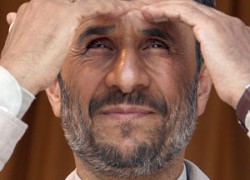 Iran once again has refuted optimistic predictions that meaningful progress would be made on the core issues at stake in the on-again, off-again nuclear negotiations. In two days of talks in Baghdad, Tehran rejected the Western proposal for resolving the nuclear impasse and agreed only to continue the talks in Moscow on June 18–19.
After raising expectations earlier this week by reaching an "agreement in principle" with the International Atomic Energy Agency (IAEA) to increase cooperation with investigators monitoring Iran's suspect nuclear activities, Iran once again executed its "slip and slide" strategy. An "agreement in principle" means little to a regime that has no principles except those that keep it firmly in power.
The Associated Press issued a bombshell account of an IAEA report revealing that Iran has escalated the level of uranium enrichment to 27 percent, significantly above the 20 percent level that it claims to need for its research reactor.
This is one more confirmation, if any was needed, that Tehran is pushing full speed ahead on its nuclear weapons program while paying lip service to the charade of diplomatic negotiations.
See: Iran Nuclear Talks: U.S. Should Stand Firm
Source material can be found at this site.