The decision by the Supreme Court regarding the fate of Obamacare was made by the Justices weeks ago. The initial vote by the court was held Friday, March 30th. We are merely waiting for the formal written decisions.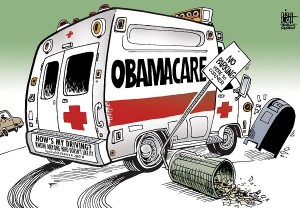 The Supreme Court is holding a regularly scheduled press conference today. There is speculation that the annoncement may come at that time. If not, there are only 2 other press conferences this month. We should know soon, it seems more than probably large portion of the Heathcare mandate with be removed, or stricken down all together.
Obama really needed to change the conversation this week due to Obama care on life support and talking about the economy right now just was not working for him either. Obama has announced this week he will stop deporting and begin granting work permits to younger illegal immigrants, he again completely bypassed congress as he did with attacking Libya. Under the Obama's plan, some illegal immigrants will be immune from deportation and get work permits, Obama is hoping to gain more Hispanic votes.
Regardless of what side if the immigration debate youre on, you should be enraged at what he has done this while bypassing congress. Obama said earlier this year speaking of his intention to implement his economic policies with or without the approval of Congress, "And where Congress is not willing to act, we're going to go ahead and do it ourselves."
Now over the next couple of weeks, we will be talking about immigration, an issue Obama feels more confidence in talking about vs the economy and Obamacare.