Two shocking photos coming off the wire of Benjamin Netanyahu addressing the United Nations. These two media sources took hundreds of professional photos at this speech, the AP and Reuters decided to publish these onto the wire.
While Netanyahu raised his hand in a speech they caught him in mid with a Hitler like stance. This is what they choose to publish out of the hundreds of pictures.
Remember Newsweeks wide eyes Michele Bachmann, or Former President Bush, the published pictures when he was speaking, media hand picked only the worst looking ones to publish.
The first is from the Associated Press: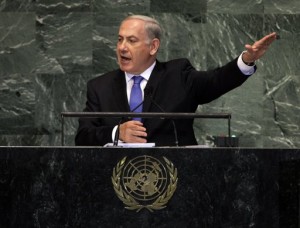 Another from Reuters: