Israel's ambassador to the United Nations, Ron Prosor, sent a letter of the complaint to the Security Council on Thursday, demanding the organization enforce UN Resolution 1701, which calls for the disarming of Hizbullah and prohibits the organization from bringing weapons close to Lebanon's border with Israel.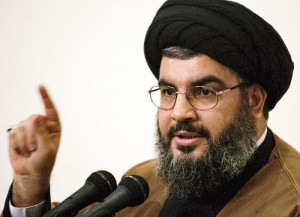 "It is time that European countries recognize Hizbullah as what it really is – an international terrorist organization," Prosor demanded in the letter to UN Secretary General Ban Ki-moon.
Ambassador Prosor said that "Hizbullah is expanding the weapons arsenal at its disposal to unprecedented proportions – more than 50,000 of the organization's rockets threaten Israel and the entire region, contrary to Security Council decisions."
He added, this is an "explosive barrel of which the UN must take care."
Prosor noted the explosion of an ammunition warehouse belonging to Hizbullah this week and said this incident shows that the region is in danger. He slammed Hizbullah for hiding weapons within civilian population centers, saying, "Not only does Hizbullah continue to obtain missiles and weapons contrary to the decisions of the Security Council, it also makes cynical use of civilians as human shields. It's no coincidence that the explosion occurred only 300 meters from a school."
Hizbullah immediately accused Israel of carrying out an aerial bombing after its ammunition depot east of the port city of Tyre exploded on Monday.
Similar explosions have occurred in the same area in the past two years. Hizbullah has denied that it stores weapons and ammunition in southern Lebanon, but Israel estimates that the terrorist organization not only stockpiles ammunition and guns but also has built up an arsenal of more than 60,000 missiles.
The head of the Israeli Air Force, Amir Eshel, said on Wednesday that Israel's greatest concern is of increased attempts by Hizbullah to attain accomplishments by inserting unmanned aerial vehicles (UAVs) into Israeli territory.
A report this week in The Washington Post indicated that Syrian President Bashar al-Assad has moved some of his chemical weapons arsenal in the direction of Lebanon, where they may end up in the hands of Hizbullah.
Source material can be found at this site.