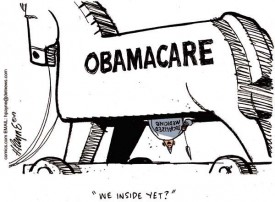 Obamacare opponents warned that forcing companies employing 50 or more full-time workers to buy healthcare would prompt employers to slash jobs and worker hours.  And that's exactly what's happening,says one of President Barack Obama's favorite economists, Mark Zandi of Moody's Analytics.
"It will have a negative impact on job creation" this year, says Mr. Zandi.
The Obamacare employer mandate doesn't go into effect until January 1, 2014, but the government requires businesses to track worker schedules for three to 12 months in advance.  That means many employers plan to get a jump start on avoiding Obamacare's $2,000 per-worker fine by firing workers now, reducing employee hours, or replacing full-time employees with part-time workers.
A survey by the International Franchise Association finds that 31% of franchisees say they plan to cut staff to duck under Obamacare's 50-employer mandate.  And another study byMercer consulting firm found that half of businesses who don't presently offer health insurance plan to reduce employee hours to avert triggering Obamacare's penalties.
As Breitbart News has reported, Pennsylvania Community College of Allegheny County has already slashed the hours of 400 adjunct instructors, support staff, and part-time teachers to sidestep the Obamacare fines.  Doing so will save the already cash-strapped college an estimated $6 million.
Other Obamacare provisions, like the medical devise excise tax, have forced Stryker medical supply to cut 1,170 positions, despite the fact that the founder of the company's grandson was among Mr. Obama's biggest campaign donors.  Other medical device makers like Boston Scientific, Dana Holding Corp., Welch Allyn, Medtronic, Kinetic Concepts, and Smith & Nephew have similarly forecast the needs to cut hundreds of jobs each as the result of Obamcare.
The day after Mr. Obama's reelection, a Las Vegas employer fired 22 of his 114 employees citing Obamacare regulations as the culprit.
Christine Ippolito of Compass Workforce Solutions says companies just under the 50 employee threshold now plan to hold off on hiring to avoid triggering the $2,000-per worker penalty.
Ernie Canadeo, the president of EGC Group advertising agency, agrees.  Mr. Canadeo sayshe had planned to hire 10 workers this year, but may wait so as not to cross the 50-worker mark.
The looming Obamacare layoffs and hiring freezes come as a Labor Department report announced today that the unemployment rate remains at 7.8% (revised up from the originally reported 7.7%).  Presently, 22.6 million Americans are either unemployed, underemployed, or marginally attached to the work force.