Police in Germany have raided dozens of addresses to foil an Islamist terror plot intending to use remote controlled model aircraft filled with explosives to be flown into targets.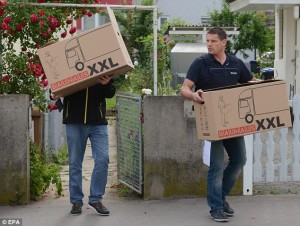 Armed officers of the specialist G9G units raided homes in Stuttgart, Munich and Dachau after receiving information that at least one Muslim terrorist attempt was being planned using the model planes as guided missiles.
Technical materials and paperwork were seized at several addresses while prosecutors spoke of plans for a 'seditious outrage'.
German intelligence officers have been warning for some time of a home-grown attack inside the country's borders as more and more Muslim Islamists return from Jihadist training camps in Pakistan ready to commit terrorist acts.
As well as the addresses in southern Germany, an Internet service provider in the state of Saxony was also raided. At least two Muslims are in custody and authorities say the operations will continue as more intelligence is gathered.
No information was given about likely targets or exactly which Muslim organisation the suspects are affiliated with.
One of the addresses raided was at the Olympic Village in Munich, scene of the 1972 Olympic massacre when fanatics of the Islamic Black September movement stormed the living quarters of Israeli athletes.

All eleven hostages later murdered by the Muslims in a shootout at Munich Airport.
Prosecutors said that the arrests were linked to a plot centred on Islamist 'Holy war' but gave no further details.

German media reported that some model aircraft, which are powerful and big enough to carry explosives capable of destroying a commerical building, were seized in the raids early this morning.
The paperwork taken from several of the suspect addresses also relates to money laundering necessary to fund the planned outrages, according to media reports.

The suspects are of Tunisian descent and follow the 5th century founded religion of Islam.
Germany's Office for the Protection of the Constitution, which deals with internal terror threats, said only recently in its annual report that the country remains a 'top target' for Islamist fanatics for its support for NATO operations in Afghanistan.