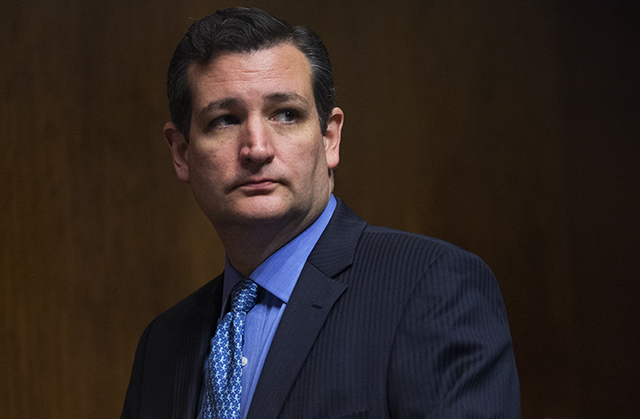 He walked Independence Square in Kiev, the site of months of turmoil, and spoke with leaders of the protest movement, many of them college-aged. He visited a hospital in Tzfat, Israel, where he saw Israeli doctors provide free medical care to Syrians gravely wounded in the civil war there.
Tonight, he was to travel to Warsaw, a place he believes is susceptible to Russia's power plays in Ukraine. Sen. Ted Cruz, R-Texas, visited Israel, Ukraine, Poland and Estonia this week and detailed his travels in a conference call today with reporters that included The Foundry.
Cruz gave a personal account of how those countries perceive American leadership during a turbulent time in the region.
Cruz met Monday and Tuesday with Israel Prime Minister Benjamin Netanyahu, Defense Minister Moshe Ya'alon, Knesset Speaker Yuli Edelstein, Economy Minister Naftali Bennett and the opposition Labor Party's Knesset leader, Isaac Herzog.
The sessions, Cruz said, reaffirmed his contention that Israel is America's strongest ally and one that requires support to buffer peace talks with the Palestinians.
"The U.S. needs to stand with Israel," Cruz said on the conference call. "No one wants to see peace more than Israel. But consistently, the Obama administration has criticized and attacked the leadership of Israel. Over the last five years, America is receding from leadership in the world, and Russia, Iran, and China have stepped into that vacuum and made the world a more dangerous place."
Cruz emphasized the U.S. has no business dictating terms of a peace agreement, but he criticized the Palestinians for recent failures in the talks, and established basic requirements he said any agreement must have.
"The Palestinians need to renounce terrorism and to declare that Israel has the right to exist," said Cruz, a member of the Senate Armed Services Committee. "If not, negotiations will fail."
Similarly, after meeting with Ukraine protest leaders in Maidan Square and later on with Ukrainian Jewish and Catholic leaders, Cruz described a country eager for help, in any form it can get.
Help also means deterring the force of Russia, by imposing tougher sanctions than the Obama administration has applied, he said.
"One thing I took away from the Ukrainian leaders is that the military lacks basic equipment, such as armor, communication tools and night-vision goggles," Cruz said. "The leadership in Ukraine is looking for help wherever it can find it. And it's in our interest to help. We ought to be using all the tools of soft power to impose significant sanctions on Russia."
But based on his conversations with the Israelis, Cruz declared the nuclear threat of Iran the biggest hindrance to peace and the largest test of American credibility.
He criticized the Geneva interim agreement, a pact between Iran and the P5+1 countries officially titled the Joint Plan of Action, which decreased economic sanctions on Iran as the countries work at a long-term agreement.
Cruz said sanctions should be lifted only when Iran disassembles its centrifuges and hands over its enriched uranium.
"The current deal is a very, very bad deal and a historic mistake," Cruz said. "In the best-case scenario, we leave Iran to the threshold of a nuclear breakout. There's concern in Israel that the U.S. deal with Iran exacerbates the problem. Every leader I met viewed the prospect of Iran getting a nuclear weapon as the strongest threat facing Israel and the U.S."