By Judi McLeod
While Israeli Prime Minister Benjamin Netanyahu is addressing a joint session of Congress, 11 a.m. this morning, President Barack Obama, Vice President Joe Biden, Secretary of State John Kerry and 34 Democrats will be 'I am Charlie Hebdo'-like MIA.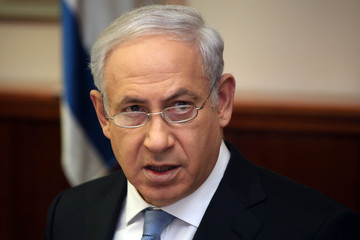 According to politico.com, (who only checked his schedule), Obama will be hunkered down in the White House storied Situation Room, talking—via video conference—to European leaders.
Nothing like the Situation Room to hide in when the enemy of whom you are so envious is holding forth in front of Congress and public tuned in over the Internet worldwide.
Many—including the western leaders—know that Obama's in a snub snit all because Netanyahu is speaking to a joint session of Congress without his permission.
It comes as no surprise that Obama would try for some kind of one-upmanship during the time Bibi has the floor.
But it should come as somewhat of a surprise that British Prime Minister David Cameron', French President François Hollande, German Chancellor Angela Merkel, Italian Prime Minister Matteo Renzi and European Commission President Donald Tusk would lend themselves as Obama's escape.
Are these 'leaders' props ready to be dragged into the act every time Obama sends out an SOS request?
The reason for today's video conference is purportedly "to discuss Ukraine and other foreign policy issues".
Iran's well documented ambitions for nuclear weapons is not a foreign policy issue?
When European leaders only two months ago rushed to Paris to conduct their own 'I am Charlie Hebdo' rally following the terrorists attacks at the newspaper office and Jewish deli, Obama was a no-show.  An Obama no-show made to look all the more conspicuous when Secretary of State John Kerry showed up with James Taylor in tow, to sing 'You've Got a Friend'.
Now that Netanyahu is addressing the dangers of Iran's ambitions for nuclear weapons, Obama merely gives a whistle and they all come running.
With the world under threat of an Islamic terrorist caliphate, Netanyahu lets average people in on his views of imminent danger.  Obama, Cameron, Hollande, Merkel, Renzi and Tusk only talk, talk, talk.
This is all that has happened during their talking about Ukraine and other foreign policy issues.
Islamic terrorism is on the rampage in the mideast and other countries.
On Friday, Kremlin critic Boris Nemstov was shot to death while walking on a bridge near the Kremlin.  No suspects have been arrested for the murder of one of the most prominent figures of Russia's beleaguered opposition while many supporters suspect the killing was ordered by the Kremlin in retaliation of Nemtsov's passionate criticism of President Vladimir Putin and as authorities broadly hint at other possible motives, including attempts to tarnish Putin's image.
Meanwhile the talk, talk, talk of European leaders has achieved nothing, nothing, nothing.
Were it not for the inherent dangers in the world because of rampaging Islamic terrorism,  and Iran pushing for nukes, European leaders yakking it up on Obama's arranged video conference would be down right laughable.
They ignore Prime Minister Benjamin Netanyahu and the threat of Iran as if neither one was real.
Here's betting most of them tune in on Benji's Congress address well after the event where Obama and no one else can see them in the privacy of their lavish offices and homes.