NASHUA, N.H – Sen. Bernie Sanders praised the decision of the "conservative Supreme Court" to legalize same-sex marriage nationwide during a campaign stop at Nashua Community College in New Hampshire today.
"They did this just on the merits of the case…. It's also that they live in the real world and they realize times are changing," Sanders said. "The American people want to end discrimination in all forms."
Sanders added that he is proud he voted against the Defense of Marriage Act in 1996.
The independent senator from Vermont identifies himself as a "democratic socialist" and is seeking the Democratic nomination for president.
"I don't think these are extreme ideas," Sanders said. "If the rest of the world can do them, so can our great country."
Switching gears, Sanders vowed to fight against the interests of "the billionaire class."
"I believe that change takes place from the bottom up," Sanders said.
He expressed support for eliminating tuition at public universities.
He also pushed for a guaranteed one-month period of paid family leave for all workers and "transforming our energy system away from fossil fuels."
He accused his Republican opponents of wanting to throw children off nutrition programs, deny access to contraception and offer tax cuts to billionaires.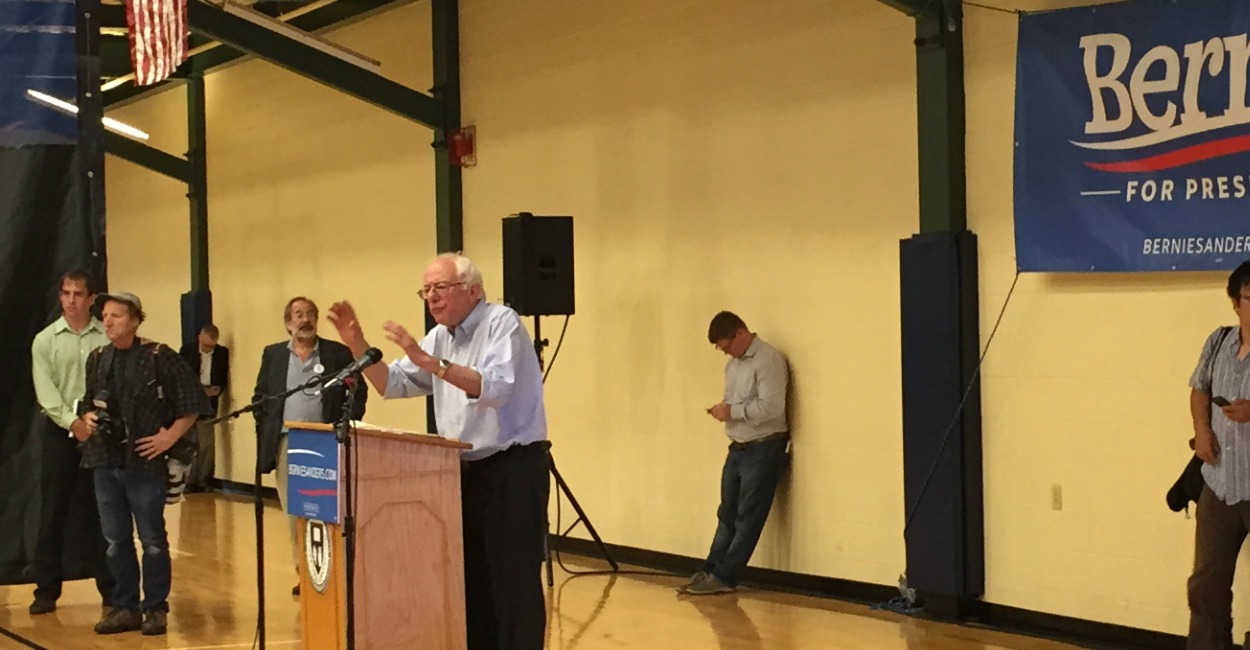 Sanders lamented that the Walton family – who founded Walmart – have more wealth than the bottom 42 percent of the country.
"One family," Sanders emphasized.
Sanders also addressed his stance on guns, which he said he feels has been "distorted."
He said that he is proud of his low rating from the NRA.
But people in rural states like Vermont and New Hampshire are "law abiding" and enjoy hunting and attending gun shows, he said, and that "way of life" should be defended.
"People have a right to hunt. They have a right to own guns," Sanders said. "But what we in rural America also understand is that guns in Chicago and Los Angeles are not the same thing as guns in Vermont and New Hampshire."
He said he believes in banning assault weapons and high-capacity magazines.
Sanders thanked supporters for helping his campaign gain "more national attention."
"We were considered fringe, out of touch, not serious… the reason, I think is that we're running a different type of campaign," Sanders said.
Sanders said he has no super PAC because he doesn't want "big money" associated with his campaign, and boasted that the average contribution to his campaign "is around 35 bucks."
"We don't want the billionaires' money, because we don't represent the billionaires' interests," Sanders said.