Given the nature of the discussion following the gay marriage ruling last week, one thing that's clear to me as a Christian who opposes gay marriage is that very few secular people – and sadly, by no means all Christians – really understand why Christians take the position we do.
That's why there is so much being said that doesn't really reflect what Christians think. Some say we hate or we judge. Others say we are against love. Some think we're threatened by homosexuals. Some think we object too vociferously because we secretly want to join their ranks. Some even claim we don't think God loves gay people.
None of that is true, but maybe it's understandable that you jump to those conclusions if you're not familiar with the Bible or with the details of Christian doctrine.
What I want to do here is lay out an explanation for the basis of Christian opposition to gay marriage. The intent here is not to convince you if you don't agree, although I'd be glad if I did. If you come away from this feeling that you better understand the Christian position, but still disagreeing with it, then I've accomplished my goal.
First, a few caveats: This explanation is going to reflect my particular denominational bent, which is Pentecostal. I don't think the substance of what I say will differ in a substantive way from any Bible-believing denomination, but I recognize, for instance, that Baptists or Lutherans may not put as much emphasis on the supernatural as I do. Noted. I still think they would mostly endorse the substance of how I'm going to explain this. Also, my target audience here is people with a genuine interest in understanding. The fire-breathing ideologue who is simply spoiling for a fight about anything and everything is going to do what he or she always does. That's not my problem.
Finally, I understand that some of you don't believe in God or in anything spiritual, and for you, all of this is absurd on its face. You're still welcome to gain an understanding if you'd like, even though I recognize you will not accept the basic premise behind any of it.
With that said, let's start by establishing a basic point about the Bible. The Christian (present company included) believes that the entire Bible is the inspired Word of God. The various writers wrote under the inspiration of the Holy Spirit, so we don't believe it was merely "written by men," and we also believe that God has protected His Word over the course of centuries with new translations to reflect modern language – by choosing godly men and women to lead those translation processes.
Christian position on gay marriage
That's why, when we cite the Bible, we treat it as authoritative.
Also, since every writer of the Bible was under the inspiration of the Holy Spirit, it doesn't matter when people argue that "Jesus never said anything" about this or that. Just because an issue isn't specifically referenced in the red-letter words of Jesus (although the definition of marriage as between a man and a woman actually is, which we'll get to shortly) doesn't mean Scriputure had nothing authoritative to say on the matter.
Now, let's establish beyond any doubt what Scripture says about homosexual sex. I have five passages for you, starting with Romans 1:24-28:
  24 Therefore God also gave them up to uncleanness, in the lusts of their hearts, to dishonor their bodies among themselves, 25 who exchanged the truth of God for the lie, and worshiped and served the creature rather than the Creator, who is blessed forever. Amen. 26 For this reason God gave them up to vile passions. For even their women exchanged the natural use for what is against nature. 27 Likewise also the men, leaving the natural use of the woman, burned in their lust for one another, men with men committing what is shameful, and receiving in themselves the penalty of their error which was due.
This passage clearly establishes that God intended a natural order for how we would receive and engage in the gift of sexual activity, and it likewise establishes that homosexual sex is outside that established order. It also establishes that there is a penalty for this. Loving Christian people want to see gay people spared of the pain of that penalty.
Next, let's look at Mark 10:2-9:
2 The Pharisees came and asked Him, "Is it lawful for a man to divorce his wife?" testing Him.
3 And He answered and said to them, "What did Moses command you?"
4 They said, "Moses permitted a man to write a certificate of divorce, and to dismiss her."
5 And Jesus answered and said to them, "Because of the hardness of your heart he wrote you this precept. 6 But from the beginning of the creation, God 'made them male and female.'7 'For this reason a man shall leave his father and mother and be joined to his wife, 8 and the two shall become one flesh'; so then they are no longer two, but one flesh. 9 Therefore what God has joined together, let not man separate."
Jesus is answering a question from the Pharisees about divorce – one of their typically pathetic attempts to trap him – and in the course of answering, Jesus lays out God's clear plan for marriage, affirming that it is indeed between a man and a woman. There are people who argue implausibly that Jesus only phrased it this way because, in that day and age, He couldn't have conceived of gay marriage. That's transparent nonsense. As the Son of God, Jesus knew everything that would ever happen. And Jesus introduced lots of concepts into His teaching that were radical in His day. If He had been OK with gay marriage, this was the perfect opportunity to say so. Instead, he affirmed that marriage is between a man and a woman.
Next, let's look at Leviticus 20:10-18:
  10 'The man who commits adultery with another man's wife, he who commits adultery with his neighbor's wife, the adulterer and the adulteress, shall surely be put to death. 11 The man who lies with his father's wife has uncovered his father's nakedness; both of them shall surely be put to death. Their blood shall be upon them. 12 If a man lies with his daughter-in-law, both of them shall surely be put to death. They have committed perversion. Their blood shall beupon them. 13 If a man lies with a male as he lies with a woman, both of them have committed an abomination. They shall surely be put to death. Their bloodshall be upon them. 14 If a man marries a woman and her mother, it iswickedness. They shall be burned with fire, both he and they, that there may be no wickedness among you. 15 If a man mates with an animal, he shall surely be put to death, and you shall kill the animal. 16 If a woman approaches any animal and mates with it, you shall kill the woman and the animal. They shall surely be put to death. Their blood is upon them. 17 'If a man takes his sister, his father's daughter or his mother's daughter, and sees her nakedness and she sees his nakedness, it is a wicked thing. And they shall be cut off in the sight of their people. He has uncovered his sister's nakedness. He shall bear his guilt. 18 If a man lies with a woman during her sickness and uncovers her nakedness, he has exposed her flow, and she has uncovered the flow of her blood. Both of them shall be cut off from their people.
Now I realize many will focus on the "put to death" aspect of this, and that's where you have to understand the difference between moral law and ceremonial law. A lot of people cite prohibitions against things like eating shellfish as evidence that Leviticus is just full of random nonsense. No. Those are laws specifically for the Israelites about remaining ceremonial clean for entering the Temple and offering sacrifices to God. Those are ceremonial laws.
The death penalty proscribed for these sins is likewise a penalty under ceremonial law, but make no mistake, God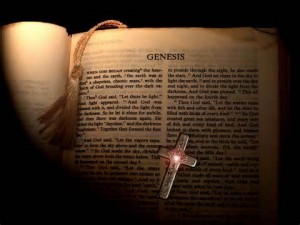 views the actions described as moral sins, and the reason I included so many other examples is to establish that there is such a thing as sexual morality, and there are limits to it. God intends sex to be enjoyed within marriage between a man and a woman who are not closely related to each other, and He is very stern with those who engage in sexual immorality – as defined in great detail in this passage. That's because God establishes that when you unite with someone physically, you also unite with them spiritually – and He only wants you to unite spiritually with one person. Your spouse. Of the opposite sex. Taking on the spiritual iniquity of others with whom you were never intended to unite is a very dangerous game, and God is trying to warn you against doing so.
Next, 1 Timothy 1:8-11:
  8 But we know that the law is good if one uses it lawfully, 9 knowing this: that the law is not made for a righteous person, but for the lawless and insubordinate, for the ungodly and for sinners, for the unholy and profane, for murderers of fathers and murderers of mothers, for manslayers, 10 for fornicators, for sodomites, for kidnappers, for liars, for perjurers, and if there is any other thing that is contrary to sound doctrine, 11 according to the glorious gospel of the blessed God which was committed to my trust.
Just to be clear, sodomites are those who engage in sodomy (referenced in other translations as those who practice homosexuality) and fornicators are those who engage in sex outside of marriage.
Finally, James 1:14-15:
  14 But each one is tempted when he is drawn away by his own desires and enticed. 15 Then, when desire has conceived, it gives birth to sin; and sin, when it is full-grown, brings forth death.
I included that last passage not just to show that desires of the flesh are sinful, but also to show that sin has ultimate spiritual consequence, which is torment in your life and ultimately death.
Now, I know that's a lot of Scripture, so let me pull it together. Every one of us is born into sin. For the homosexual who says, "I was born this way," I will not argue. We were all born with sinful urges of our flesh. Some struggle with anger. Some struggle with heterosexual lust. Some struggle with gluttony or addiction to alcohol. And some struggle with homosexual urges. These are our desires. They come from the flesh and they war against the spirit.
God's desire for each person is that they will repent of those desires and surrender to Him so that He can deliver them from these urges by the power of Christ. The Christian who loves as God loves certainly does not a hate another human being for having sinful desires of the flesh. We have them too. We need the power of Christ to be delivered from them. But crucially, we recognize that these urges are sinful and we want to be delivered from them so we can be in a right relationship with God, and receive the fullness of His blessings in our lives.
I understand why some Christians struggle with this. They know a gay person, or maybe have a gay family member, and they want that person to be happy. It's enticing to accept the "love is love" argument and to believe that surely God wants that gay person to be in a loving relationship.
But that argument wrongly conflates love with sex. There are a lot of different kinds of love. Hopefully you love a lot of people, but you only have sex with one person – the one to whom you're married. If you want a gay person to know love in a romantic/sexual relationship, good, so do I. So I will pray that this person is delivered from those urges through the blood of Jesus so that he or she can find the mate of the opposite sex that God always intended for them to come together with.
For a Christian to encourage a gay person in the consummation of a gay "marriage" is to encourage their permanent indulgence in a lust of the flesh that Scripture clearly tells us God finds detestable, and to suffer all the spiritual consequences that come with that. It would be like encouraging you to go hiking down a path where we know a deadly wild animal is waiting to devour you. Far from hating you, we're loving you by warning you of the
consequences and urging you to repent – which literally means to turn back and change directions.
That's why the Christian baker doesn't want to bake that wedding cake, and why the Christian adoption agency doesn't want to process those papers, and why the Christian church won't perform the ceremony. And that's why so many people like me won't be cloaking our Facebook profile pictures in the rainbow colors. What we want for you is something better than your flesh is leading you to, and we're praying for you to receive it. We're not going to encourage you to follow the desire of your flesh instead of the light God wants to put in your spirit.
I hope that by reading this, some of you gained a better understanding of the Christian position on gay marriage, and why a Bible-believing Christian can never accept it. If you did – even if you still disagree – I did my job.