14-year-old Ahmed Mohamed, the Texas teenager who made headlines around the world after he was arrested for making a clock that teachers mistook for a possible bomb, is moving with his family to Qatar, and has gotten his clock back from the police just ahead of the flight.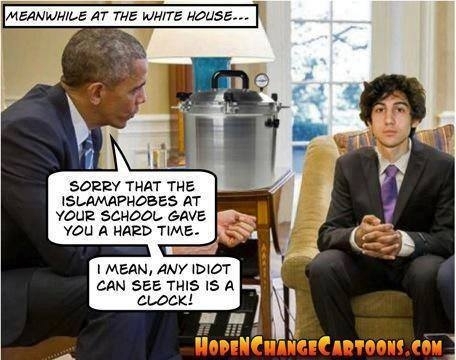 "Got my clock back finally!!" Mohamed posted on Twitter on Friday evening after he received the device, reported The Guardian.
Police in Irving, Texas, on the outskirts of Dallas, had held Ahmed's clock in an evidence bag.
The 14-year-old visited the White House on Monday, on the invitation of President Barack Obama, but was not able to take his clock with him, as the president asked, because it was in custody.
Ahmed, then a new student at MacArthur high school, got into trouble after he showed his clock device, wired together in a large metal pencil case, to his teachers, noted The Guardian.
After pictures of Mohamed with his hands cuffed behind his back and wearing a NASA T-shirt went viral, Obama invited him to bring his clock to the White House.
Just 24 hours after the visit to Washington, the Mohamed family announced he had been offered scholarships for school and college in Doha, Qatar. He, his parents and siblings will leave the United States next week, with no plans to return.
"This has destroyed the whole family, you know," Mohamed's uncle Aldean Mohamed was quoted as having told the Dallas Morning News. "We are here for 30 years. We love Irving and want to be in Irving but this is their choice [to leave]."
Congressman Mike Honda, the Democratic representative for Silicon Valley, hosted a press conference on Capitol Hill with Ahmed on Tuesday morning.
"This incident highlights an alarming trend of profiling Muslim Americans not only by law enforcement but in all of society as a whole, and I think we call that Islamophobia," Honda said, according to The Guardian.
He invited Ahmed to visit Silicon Valley and a NASA center in California, and tweeted: "He'll make a fine engineer one day."
Ahmed himself had posted on Twitter a picture of himself hugging Obama and said it was an honor to have met the president. But he has also said he did not think any of his classmates would have been arrested for the same incident, claiming he was routinely treated like a foreigner and subjected to anti-Muslim and racial prejudice in Irving.
After Mohamed's story broke, one of his former teachers said Mohamed was a troublemaker in his younger years, describing him as a "weird little kid" that could have a future in crime.
The clock debacle wasn't the first time Mohamed raised eyebrows in the school district, according to reports earlier this month. In middle school he racked up a number of suspensions and once made a homemade remote to turn off one of his classroom projectors.
Source material can be found at this site.