By Judi McLeod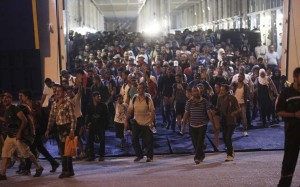 That French premier Manuel Valls is positing that some of the suspects in Friday's Paris attacks took advantage of Europe's migrant crisis to "slip in" unnoticed, while French President François Hollande has announced he's bringing in some 30,000 more Syrian "refugees", it becomes rational to ask if the main droite(right hand) knows what the main gauche (left hand) is doing.
How can it be that the president of any country would open the door to 30,000—impossible to vet—"refugees" in the very aftermath of Friday's horrific terrorist attacks?
It's almost as if Hollande, Barack Obama, Angela Merkel,  David Cameron and others are on the ISIS pay roll.
And while on the subject of rational questions about Western societies bringing in tens of thousands of unvetted "refugees" into their countries, why is Canada's newly-elected Prime Minister Justin Trudeau "landing" 25,000 refugees on a largely unsuspecting Canada before the year's out?
Though he's said to be trying to push the number up to 100,000, Obama's set to bring in 10,000 more Syrians,  FBI warnings notwithstanding.  Is Trudeau, already portrayed as an Obama's latest poodle, in some kind of ego contest with The Pocket Messiah?
"Some of the suspects in the Paris attacks took advantage of Europe's migrant crisis to "slip in" unnoticed, the French premier said Thursday, warning the EU needed to "take responsibility" over border controls. (Yahoo, Nov. 19, 2015)
"Manuel Valls said the EU's cherished passport-free Schengen zone would be in danger if the bloc did not improve border controls, after it emerged the ringleader of the Paris attacks had managed to enter Europe unnoticed.

"It was confirmed on Thursday that Abdelhamid Abaaoud, a Belgian of Moroccan origin linked to a series of extremist plots in Europe over the past two years, had died in a police raid on an apartment in northern Paris on Wednesday.

"As debate raged about the failings that had let Abaaoud slip through the net, Valls urged France's neighbours to "play their role properly", saying the whole Schengen system would be "called into question… if Europe does not take responsibility" for its borders.

"The Schengen system allows passport-free travel between 26 countries but it has come under severe strain this year as the continent struggles with its biggest migration crisis since World War II.

"More than 800,000 migrants and refugees have arrived this year and Valls said some of the Paris attackers had turned the chaos to their advantage.

"These individuals took advantage of the refugee crisis… of the chaos, perhaps, for some of them to slip in" to France, he said on the France 2 television station.

"Others were in Belgium already. And others, I must remind you, were in France."

"Earlier, Interior Minister Bernard Cazeneuve said Paris had received "no information" from other European countries about Abaaoud's arrival on the continent, despite the fact he was a known jihadist and the subject of an international arrest warrant.

"Police sources said a tip-off from Moroccan intelligence had helped track 28-year-old Abaaoud to the building where he died on Wednesday along with a woman thought to be his cousin, who detonated an explosives vest."

Valls'  comments come as a warning to the populations of Germany, Britain, Canada, the U.S. and elsewhere, where jihadists posing as refugees are not merely slipping in—but being brought in—by defiant Western leaders.

Wobbly Western leaders are operating under the cover of compassion.  Where is compassion when they are putting the lives of their own people at risk?

Until Western leaders find the backbone to close their borders and put sovereignty above phony compassion, their countries are going to continue to be killing fields for rampaging Islamic terrorism.