by Tyler Durden
(ZHE) — Following the FBI's official report on the Oct. 1 mass shooting in Las Vegas – the deadliest in American history – a judge on Tuesday unsealed 300 pages of search warrant records, including a document that appears to validate claims that shooter Steven Paddock may have had help planning his attack.
That's because the documents revealed, for the first time, a publicly identified "person of interest" whose name has thus far not been publicly reported as part of the investigation, the Las Vegas Review-Journal reported.
"Until the investigation can rule otherwise, Marilou Danley and Douglas Haig have become persons of interest who may have conspired with Stephen Paddock to commit Murder with a Deadly Weapon," according to the Metropolitan Police Department document, which was prepared in October.
Danley was in Australia when Paddock carried out his deadly attack. She was reportedly "sent away" by Paddock, her boyfriend of several years, who apparently had a history of domineering behavior toward her.
Haig could not be reached by the RJ. When contacted by phone Tuesday about the newly released name, Clark County Sheriff Joe Lombardo said only, "If you've got it, publish it." He said he could not comment on a federal case. The FBI refused to comment.
During a Jan. 20 update on the LVPD's investigation, Lombardo noted that the FBI had an open investigation into a second person of interest, but also said that Paddock was the only shooter. Lombardo also said he didn't anticipate Danley facing any criminal charges.
"I know and believe there was only one suspect who killed 58 people and injured hundreds more," Lombardo said. "All the evidence recovered in this case supports that theory. There was one shooter in the 1 October massacre. There was only one person responsible, and that was Stephen Paddock."
Paddock's brother Eric Paddock told the RJ that he does not know Haig. The documents were unsealed at the request of the RJ and a handful of other media outlets.
Notably, screenshots of what purports to be Haig's LinkedIn page quickly began circulating on social media: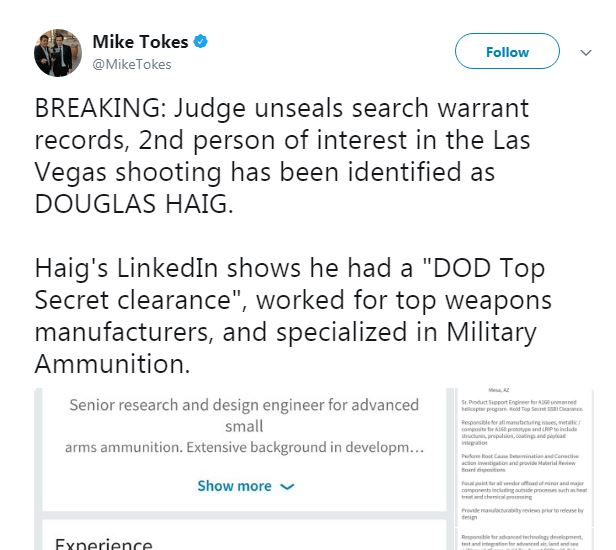 The LinkedIn page showed that Haig had "DOD Top Secret Clearance" and worked for weapons manufacturers. According to the page, he is presently a senior engineer at Honeywell Aerospace.
Paddock killed 58 people and left more than 500 injured when he opened fire on a crowd of fans attending a country music concert across the street from the Mandalay Bay Resort and Casino.
By Tyler Durden / Republished with permission / Zero Hedge / Report a typo
This article was chosen for republication based on the interest of our readers. Conservativepapers republishes stories from a number of other independent news sources. The views expressed in this article are the author's own and do not reflect Anti-Media editorial policy.