The EU approved €14.9 million for projects "to preserve the Palestinian character" of Jerusalem. The Knesset should outlaw EU projects in Jerusalem
by Ezequiel Doiny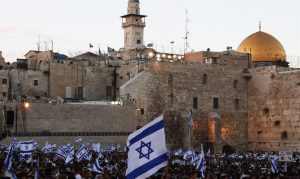 On February 2, 2018 the European Union External Action website reported "The European Commission has adopted a new €42.5 million assistance package benefiting Palestinians, including substantial support in East Jerusalem.Commissioner for European Neighbourhood Policy and Enlargement Negotiations, Johannes Hahn, said: "With this new assistance package the European Union continues to support the Palestinians on their way towards the establishment of their own state as part of the two-state solution, with Jerusalem as capital of both Israel and Palestine. The European Union is, and will remain, Palestine's most reliable and important donor…In 2017, it amounted to nearly €359 million from all financing sources…The newly adopted €42.5 million assistance package includes €14.9 million for activities in East Jerusalem to preserve the Palestinian character of the city…"
Pleaseseehttps://eeas.europa.eu/headquarters/headquarters-homepage/39240/new-assistance-package-palestine-eu-strongly-committed-support-socio-economic-revival-east_en
On December 31, 2017 the Times of Israel reported "The Israeli government has finalized a deal with the European Union for regional cooperation that excludes settlements, the Haaretz newspaper reported Sunday, with Culture Minister Miri Regev claiming she was misled into not blocking it…
the deal contains a clause which notes that it does not pertain to areas beyond the 1967 borders, including the Golan Heights, West Bank and East Jerusalem…On Sunday Regev complained that she had sought to challenge the deal, but was misled by a technicality — submitting an objection rather than demanding a discussion on the matter…"
On December 28, 2017 Arutz7 reported "A number of government ministers were surprised to discover this week that, without notice, under their noses, an agreement was signed with the European Union that could have very significant implications for the State of Israel vis-a-vis the PA, B'Sheva revealed this morning, Thursday.
This is an agreement called the "Transboundary Cooperation Program in the Mediterranean Basin" and is aimed at financing projects costing tens of millions of euros for 14 non-EU countries in the Middle East, including Israel and the Palestinian Authority, which is also defined as a political entity.
The agreement includes, inter alia, a clause stating that for Israel, the agreement does not apply beyond the Green Line, in eastern Jerusalem and in the Golan Heights. In the areas under the Palestinian Authority, on the other hand, it applies without any qualifications. In other words, Israeli entities in Judea and Samaria, eastern Jerusalem, and the Golan Heights will not be able to participate in the projects and receive funding. The PA is enjoying a privilege here that no previous agreement has given it: it will not only be responsible for projects in the Palestinian Authority, but will be able to seek support for projects in the areas that, according to the Oslo Accords and other agreements, are under Israeli sovereignty. These include Area C, which is certainly under Israeli control and eastern Jerusalem – where the Palestinian Authority has no legal status and, therefore, should not have a foothold as a decision-maker.
What kind of projects does the PA want to implement within the framework of this agreement with the EU? For example, the PA wants the EU to invest in a project that promotes the "Palestinian heritage" of Sebastia, one of the places where Israel has actually consolidated its control in recent years. Another project on the agenda of the Palestinian Authority is activity at one of the gates of the Old City of Jerusalem, a place that is, by all accounts, under Israeli sovereignty. A long list of projects aimed at undermining Jewish heritage and the State of Israel is on the PA's agenda…"
While the deal excludes funding for Israeli projects in areas beyond the 1967 borders, including the Golan Heights, West Bank and East Jerusalem, it does not limit funding for Palestinian projects in those areas.The Europeans have recently funded projects all over Judea and Samaria, now they are trying to crate a Palestinian footing in Jerusalem. The Knesset should reaffirm Israeli sovereignty and forbid EU funding in Jerusalem.
Ezequiel Doiny is author of "Obama's assault on Jerusalem's Western Wall"