Twitter has locked Rep. Marjorie Taylor Greene out of her Twitter account on the day that Democrats are introducing a resolution to overturn the will of voters and expel her from Congress.
Advertisement – story continues below
A spokesperson for Greene confirmed that she is locked out of the account for 12 hours for unspecified "repeated violations."
TRENDING: Vladimir Putin Ups the Ante, Challenges Joe Biden to a Live, Public Debate: "Without Any Delays" – Biden Declines
At least four hours remain in the suspension as of 9 a.m. EST.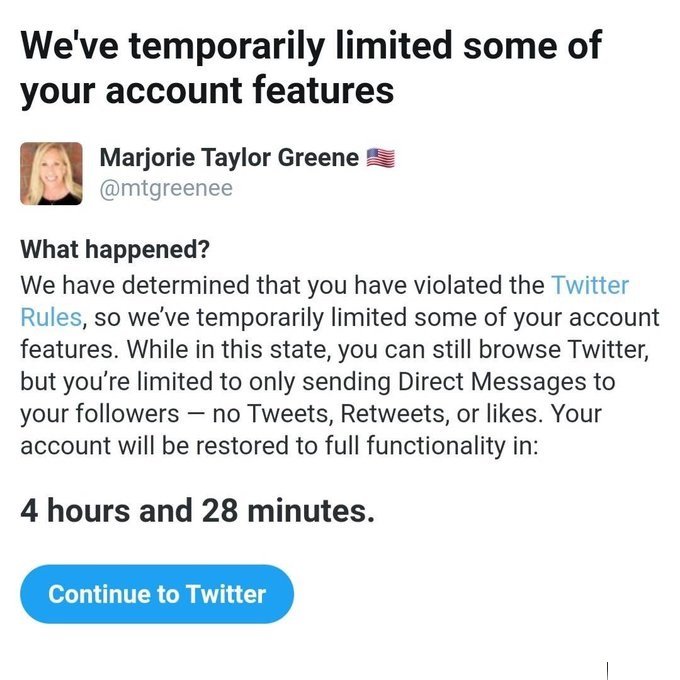 Advertisement – story continues below
You can still follow Rep. Greene on Parler, Gab, and Telegram.
California Rep. Jimmy Gomez is introducing the resolution to oust her on Friday — and his effort is cosponsored by 72 House Democrats. Among those pushing the anti-Democratic effort are Alexandria Ocasio-Cortez and Debbie Wasserman-Schultz.
Greene is not a member of the establishment and has become the target of obsession by the liberal media, who are suffering from low ratings without Donald Trump to whine about daily.
Gomez' resolution Gomez also calls for "strong and clear condemnation from all of her Republican colleagues," including House GOP Leader Kevin McCarthy, though he has so-far been unwilling to throw her under the bus to appease the left.
WAR: Rep. Marjorie Taylor Greene Decorates Hall Outside Her Office After Dem Rep. Puts Up Trans Flag (VIDEO)
Advertisement – story continues below
Last month, eleven spineless Republicans voted with Democrats to remove Greene from her committee assignments. The traitors are as follows: Reps. Mario Diaz-Balart (Fla.), Brian Fitzpatrick (Pa.), Carlos Gimenez (Fla.), John Katko (N.Y.), Young Kim (Calif.), Adam Kinzinger (Ill.), Nicole Malliotakis (N.Y.), Chris Jacobs (N.Y.), Maria Salazar (Fla.), Chris Smith (N.J.) and Fred Upton (Mich.).
Removal of Greene would require a two-thirds super majority vote.
Source material can be found at this site.