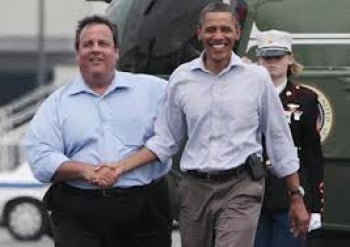 After he dropped out of the 2016 Presidential Election race, former New Jersey governor Chris Christie was one of the first to back candidate Donald Trump.  A short time later we learned he was no friend to President Trump or the country.  He has not changed. 
Chris Christie, the former New Jersey governor is no friend of President Trump or the GOP.  Christie gave Obama a photo-op only days before the 2012 Presidential Election.
Advertisement – story continues below
Chris Christie: My Obama "Bear Hug" Did Not Hurt Mitt Romney (Video)
We saw Christie beg for Trump's favor after dropping out of the race in 2016 but it appears it was only for show and ulterior motives.  Then when he was confided in by President Trump, he failed.  Christie was reportedly the one who recommended President Trump hire Christopher Wray for FBI Director.  Wray has been nothing but corrupt.
TRENDING: Duchess of Cornwall on Biden Farting at Climate Summit — 'Long and Loud and Impossible to Ignore'
Revealed: Former New Jersey Governor Chris Christie Betrayed President Trump – Recommended FBI Director Chris Wray
Others soon figured out what we could see about Christie – he's not connected to the American spirit that swept President Trump to the 2016 Presidential Election win and he's not the guy to cover your back.
Advertisement – story continues below
"I Am Sick and Tired of These Political Charlatans" – Mark Levin UNLOADS on Treasonous RINOs Toomey, Gov. Hogan and Chris Christie
The Republican Party still believes Christie is worth trusting though.
Republican Trust Gives Top Positions to Mike Pompeo, Chris Christie and Karl Rove – Why?
CNN also trusts Christie.  They had him on today where he made the following claim:
Former New Jersey Gov. Chris Christie told some of the Republican Party's most influential donors and bundlers Saturday that the only way for the party to continue building on last Tuesday's electoral successes is to move beyond former President Donald Trump's fixation with the 2020 election results — while showing voters they will listen and fight for them with a message "that doesn't hurt their ears."
Advertisement – story continues below
In the entire article from CNN, Christie never addresses the 2020 Election fraud that stole the election from President Trump but he also never addresses the election fraud in his own state, New Jersey, last week.
We reported how the governor's race in New Jersey was won by the Republicans but then in the middle of the night, the county with the largest population added an additional 40,000 votes (net) for the Democrat giving him a 20,00o ballot lead.  This was after the county claimed at bedtime that its results were 100% reported.
Then was saw more scandalous actions the next day.  In the New Jersey Senate election, where a Republican truck driver beat the Democrat President of the Senate, a miracle happened for the incumbent Democrat.  This race is now in contention since the Senate President reported that an additional 12,000 ballots were found that had not been counted.  These ballots were also more than enough to steal that race from the Republican.
But Christie mentioned none of this.  His state's Republican party had two huge races stolen from them last week and he says nothing.  Instead, Christie pushes Americans to move on from the 2020 Election stolen from President Trump. 
Advertisement – story continues below
Christie just shared some of the most out-of-touch comments in US political history.  Wow.
Source material can be found at this site.