Arizona Democratic Legislators held a press conference on Tuesday, after getting cold feet on defying Katie Hobbs with a veto override for "the tamale bill."
GOP State Rep. Travis Grantham's HB2509, dubbed "the tamale bill," would help support entrepreneurship and small business, namely in Arizona's Hispanic community.
Even Democrats have no power in the legislature under radical leftist tyrant Katie Hobbs.
As The Gateway Pundit reported, Questionably elected Arizona Governor Katie Hobbs recently vetoed the bipartisan bill that would ease restrictions on street vendors selling homemade food goods or "cottage food products" and received the support of over two-thirds of the Arizona Legislature.
POLL: Katie Hobbs Ranks Among the Most Unpopular Governors in the Nation-Republicans Hold 7 of 10 Top Spots
Senator Anna Hernandez opened the press conference with a speech she probably didn't even write herself, calling the bill "model legislation pushed by dark money billionaires" to give "extreme deregulation" to sellers of homemade goods. Did she mean George Soros?
Hernandez also called it an "insincere charade" and claimed "racist" Republicans are using the Hispanic community "as a pawn in their long game," despite the bill receiving bipartisan support from many Hispanic Democrats and Republicans.
This is a shocking way to describe the proponents of this bill, considering that Democrat Katie Hobbs has a history of discriminatory firing against a black employee, participation in a "slave day" tradition, and could not even say one good thing about Hispanics when asked in a forum on the campaign trail. And now, this:
When Katie Hobbs vetoed this HB2509, she sent a letter to Speaker Ben Toma suggesting that home kitchens in this dominantly Hispanic industry are more susceptible to "rodent or insect outbreaks." This led many to speculate that Katie Hobbs was referring to Arizona's Hispanic community as unsanitary. Rep. Alma Hernandez said later in the day that the veto letter was "offensive, and I would be glad to put up my Nana's kitchen or my mom's kitchen up against anyone's kitchen." She continued, "I have not heard of one single case or one person dying from eating tamales or tortillas from someone that sold them in my district."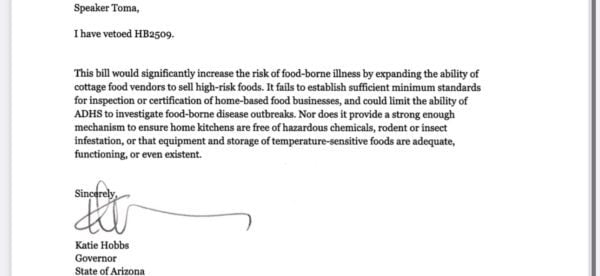 Sen. Anna Hernandez further proposed that the bill must require preparers of cottage food goods "to receive basic food safety and handling instructions requiring labeling to include contact information for someone at the Department of Health Services(DHS) so they can report a foodborne illness and to allow the Department to investigate certain foodborne illnesses."
However, HB2509 already requires food preparers to take a basic food handling course and "register with an online registry established by DHS." It also "requires DHS to adopt rules relating to cottage food products," allows DHS to enforce these rules, and does not impede DHS from investigating reported foodborne illnesses.
The Senate Democratic Caucus announced this press conference, calling the bipartisan fight to override Hobbs' veto "political theater" and purporting to look for "real solutions for impacted communities." Rep. Alma Hernandez slammed her Democratic colleagues for "showing they are too weak to make their own decisions as lawmakers."
Political theatre ? when people vote a certain way and are then too scared to stand with their community because they're afraid of political repercussions and more concerned about the optics. And agreeing to changes that are absolutely non-starters. Showing they are too weak to… pic.twitter.com/eWHfU1m2Vh

— (((Rep.Alma Hernandez))) (@almaforarizona) April 25, 2023
This press conference was the real political theater aimed at defending Katie Hobbs' veto of a new law that would help Arizonans. The override later failed in the Arizona House by only five votes. 
The Gateway Pundit correspondent Jordan Conradson attempted to question the Senator over her flagrant disregard for Katie Hobbs' racism while blaming racism and virtue signaling or "righteous outrage" by Republicans for this bipartisan bill's introduction.
Hernandez refused to answer Conradson's questions, and when one mainstream reporter finally asked tough questions, Hernandez fumbled her words and struggled with her bad answers.
After the press conference, Conradson again attempted to speak to Hernandez, but he was shooed off and blocked by Senator Mitzi Epstein as Hernandez was escorted away by her handlers and other members of the media, including leftwing hack Stacey Barchenger.
Watch the full press conference below. Questions are asked after speeches.
Conradson: You spoke a lot about racism by Republicans, but a lot of your colleagues on the Democratic side support this bill. Rep. Alma Hernandez said that the veto of this bill "goes against her community" and slammed all of you here as "weak. So, my question for you is aren't you ashamed of Katie Hobbs' history of racism with her celebration of "slave day," her discrimination against black employees, and also, at a Hispanic forum where she couldn't even say one good thing about Hispanics?

Trending: Check Out the Hilarious Memes From Tucker Carlson Supporters in Response to His Video

Hernandez: What I will say is that today we're talking about HB 2509. So if you're interested in sound bites, please find them elsewhere. Next question.

Conradson: I'm asking you about your alignment with Katie Hobbs, a proven racist. Are you not going to answer about your alignment with Hobbs?

Hernandez: Next question.

Conradson: Again you're talking about race. Are you going to distance yourself from Katie Hobbs' racism?

Hernandez: I'm here for my people and the people about LD24, and I have a track record of showing up for them.

Reporter: What do you say to people who see this as just you trying to prevent Hobbs from being embarrassed by having the override?

Hernandez: I think the record will show that I stand for my, for my com, for our community first and foremost. What we're talking about is not an embarrassment, or this has ov, been overshadowed into concerns over policy and has developed into political theater. I think that is what we have seen over the week.

Reporter: I mean, we've seen representatives on your side calling this political theater. We had a supermajority vote to pass this piece of legislation earlier. What changed between when you guys pass it the first time and now?

Hernandez: A lot has changed. I mean, we have, we have more information now, other community members have put input that weren't afforded that opportunity prior to the bill going to the Governor's desk. That's what I'm saying. Let's bring, let's work on it. We're serious about delivering legislation. The doors are open. Let's work together on good policy.

Reporter: Was the first vote a mistake?

Hernandez: I stand by my first vote and I stand by my words today.

Conradson: Why do you believe that some members of your community in the legislature are supportive of this [veto override]?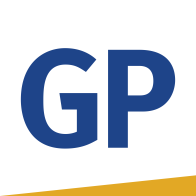 Dear Reader – The enemies of freedom are choking off the Gateway Pundit from the resources we need to bring you the truth. Since many asked for it, we now have a way for you to support The Gateway Pundit directly – and get ad-reduced access. Plus, there are goodies like a special Gateway Pundit coffee mug for supporters at a higher level. You can see all the options by clicking here – thank you for your support!
Source material can be found at this site.