News reporters are duty bound to avoid expressing their subjective viewpoint or wilfully promoting social and political causes. Yet sometimes reporters' opinions and agendas, whether conscious or unconscious, are revealed in their news coverage.
Instead of doing straightforward reporting, some reporters use the public platforms of the media outlets they work for to slip in their own thoughts, frame a story's narrative in a particular light, use partisan language, or use unreliable sources in the pursuit of advocacy journalism.
A recent violator of the most basic precepts of neutral and objective reporting comes from the Canadian Globe and Mail's Mideast bureau chief, Patrick Martin, for his engagement in anti-Israel advocacy journalism.
In an article published on Oct. 19 entitled "Israel Shedding Allies as Government Goes 'From Bad to Worse"', Martin tried to paint Israel as a pariah state. The lead of Martin's article sets the tone for his thesis which presents Israel's loyalty oath and the flotilla incident as the reasons why Israel is allegedly losing friends:
The list of Israel's friends is quickly becoming a lot shorter than that of its former friends. To the second category can be added a number of OECD member countries and officials, a leading British film director and the King of Morocco –who have all in the past few days cited increasing unease with Israel's policies toward Palestinians.
Despite Martin's highly selective list, Israel's recent admission to the exclusive Organization for Economic Cooperation and Development (OECD) points to Israel's growing acceptance in the international community and the important role it will play in the global economy.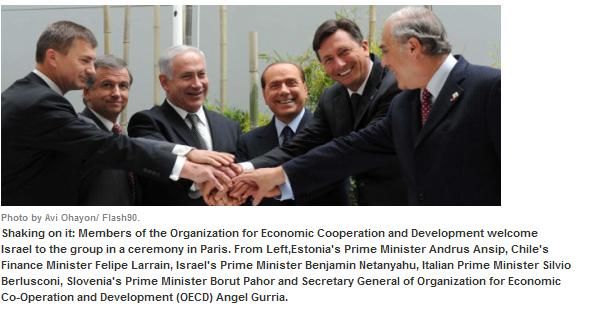 Contrary to Martin's claims that Israel is losing a popularity contest, consider the following recent international agreements and meetings which show that Israel isn't a loner on the international stage:
With respect to international commerce, Canadian French newspaper La Presse recently described Israel as a business role model for the world. The Quebec newspaper profiled Israel's economy in a special feature report highlighting the Jewish state's dynamic entrepreneurship and world-class business leadership.
As to the arts community, the following musicians have either performed recently or who will be giving concerts in Israel in the future: Elton John, Rihanna, Lady Gaga, Metallica, Guns N' Roses, Leonard Cohen, Justin Bieber and Neil Sedaka.
Why Martin didn't consider these readily available facts is quite troubling. Is it perhaps because they didn't support his overarching thesis?
Basic Facts Fly Under Martin's Radar
A September 17 article entitled "Hamas member's killing flies under Israeli public's radar", saw Martin spin the death of Hamas Commander Iyad Shilbayeh in an IDF arrest raid as a "targeted killing," suggesting that the operation was timed on the eve of Yom Kippur to keep it under the Israeli public's radar. Does Mr. Martin offer any evidence to support these claims? Not a shred.
Mr. Martin wrote: "It appears to have been a 'targeted killing,' the first of a Hamas member in the West Bank for more than two years." Yet we haven't seen any other reporter describe this incident as a "targeted killing"; according to other mainstream media reports about the incident, it was an "arrest raid." Furthermore, Mr. Martin provided no evidence or attribution to buttress his contention.
By putting the Israeli response contending that this was an "arrest raid" and not a "targeted killing" in paragraph 10 (out of 12 total), Mr. Martin buried the Israeli point of view under a mass of details and out of the sight of all but the most dedicated readers.

Mr. Martin also unfairly implied that the IDF's timing of this operation (late afternoon right before the start of Yom Kippur) was to purposely keep this incident off the Israeli public's radar. On what evidence was this assumption based? Unless Mr. Martin had incontrovertible proof or an attributed statement to suggest that the operation was designed to be kept off the Israeli radar, this statement shouldn't have been included in this report in the first place.
Appealing to the Globe's sense of journalistic integrity, we asked their senior editors if they could provide any evidence or attribution to support their Middle East correspondent's contentions. To our dismay and after many repeated requests, the Globe failed to reply to our concerns about their coverage.
Canadian Journalist Aids Demonization Campaign Against Israel
In a recent opinion piece published in the Canadian Jewish News, Gerald Steinberg of NGO Monitor argues that Patrick Martin of the Globe Mail had contributed to the demonization campaign of Israel by presenting a distorted view of the efforts of anti-Israel political advocacy NGOs like Mada al-Carmel.
According to Steinberg:
On July 1, the Globe and Mail published a major story (1,100 words) by correspondent Patrick Martin on the Arab-Israeli political advocacy NGO group, Mada al-Carmel.

After the Canadian government's International Development Research Centre ended its funding of the group, Mada al-Carmel initiated a lawsuit alleging that this decision was taken "under pressure from the Israeli government" and blamed NGO Monitor for triggering the de-funding. Before the review, Canada gave it more than $800,000, which was 40 per cent of Mada's budget, with the rest from European governments and the New Israel Fund.

It wasn't a research article and had no detailed analysis or quotes from the numerous documents showing how governmental officials help political NGOs get large grants used to wage political warfare against Israel. These documents illustrate the major defects in the IRDC's approval process and selection of reviewers for political advocacy NGOs.

In contrast, Martin's article relied on quotes from selected individuals. It accepted Mada al-Carmel's self-presentation as a "social research centre" and repeated claims that the IRDC grants were for a study of "the marginalization of women in Arab-Israeli society."
Patrick Martin's anti-Israel advocacy reporting must be challenged. Please send your considered comments to the Globe and Mail at: [email protected]
This communique was adapted and reproduced with the kind permission of HonestReporting Canada.
Source material can be found at this site.