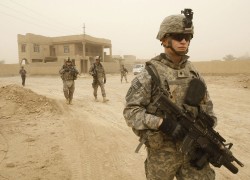 Details are still emerging on the killings of 16 Afghan civilians by a U.S. soldier in Kandahar province. U.S. officials call it an isolated incident in which one rogue soldier acted alone. Obviously if the initial reports are true, this is a horrifying event that will shake how Americans and the world at large view U.S. commitment to that war effort. As appalling as this incident may be and as gruesome as the details to come may prove, however, any decision on this war must be made strictly on national security grounds.
Heritage Foundation Senior Research Fellow Lisa Curtis warns that:
Not only will this horrific incident enrage average Afghans, it will likely significantly impact the American public attitude toward the war and renew calls for speeding up the pace of U.S. troop withdrawals. It is important for the U.S. to demonstrate that it will ensure justice is served in dealing with the perpetrator of the senseless murders. As tempting as it may be to view the current troubles in Afghanistan as an excuse to cut and run, U.S. leaders must recognize that would be irresponsible and lead to greater dangers for the U.S. and the Afghans. Instead, the U.S. and Afghan authorities must work together to calm the situation and show unity of purpose.
The shootings occurred in the Panjwai district of Kandahar province, a former Taliban stronghold in southern Afghanistan that had made considerable progress on the security front after the surge of U.S. troops.
The heightened tensions over the shooting, following recent outbreaks of violence after the improper disposal of Korans, threatens to unravel the hard-won security gains made in southern Afghanistan and could greatly complicate the Obama Administration's strategy for Afghanistan. Taliban leaders vowed to take revenge for the attacks.
Source material can be found at this site.