Morsi Ousts Egyptian Military Leaders
August 13, 2012 10:50 by Pesach Benson
Everything you need to know about today's coverage of Israel and the Mideast. Join the Israel Daily News Stream on Facebook.
Today's Top Stories
1. Simon Plosker got op-ed space in the Jerusalem Post to expand on HonestReporting's legal victory over The Guardian:
Considering that the status of Jerusalem and the importance of accurate reporting on Israel are issues of relative consensus within the UK's Jewish community, why was HonestReporting the only organization concerned enough to take up the case on Israel's behalf? No wonder the Guardian, BBC and others feel virtually immune when it comes to reporting with undisguised antipathy towards Israel.
Only three complaints against the Guardian, including ours, were lodged with the PCC. There were none from any other Jewish or pro-Israel organizations, which must have left the PCC feeling under far less pressure when it deliberated on the issue.
On a related note, check out HonestReporting's latest infographic: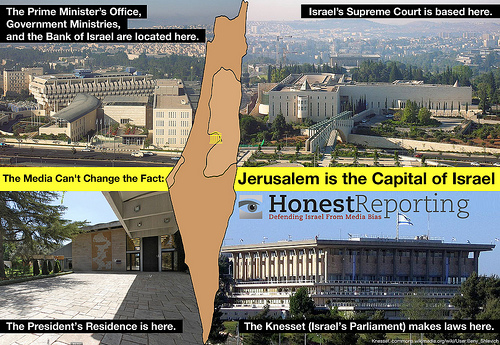 2.  President Mohammed Morsi ousted Egypt's top military leadership, including Field Marshall Mohammed Hussein Tantawi. The Times of Israel reports that Jerusalem isn't worried about a decrease in security cooperation.
Assuaging fears that unfamiliar military leaders in Cairo might not cooperate with Israel, the official said that Defense Minister Mohammed Hussein Tantawi's replacement, Abdul Fatah Khalil Al-Sisi, "is well acquainted with Israel's security elites . . .
David Ignatius (Washington Post) says Sisi is also well-known to the US, which is more concerned for Egypt's judiciary:
What's indisputable is that the Muslim Brotherhood, of which Morsi is a longtime member, has now tightened its grip on Egypt, controlling the military as well as the presidency and the parliament. That's either an example of democracy in action and civilian control of the military, or a Muslim Brotherhood putsch, depending on your viewpoint. It probably has elements of both.
The U.S. view is that the replacement of aging top military leaders, in itself, isn't worrying. But they would be concerned if Morsi moved to make changes in Egypt's judiciary, which has been an important independent center of power since the Tahrir Square revolution that deposed Mubarak in February 2011. Worries about the judiciary were prompted by another Morsi move Sunday — to appoint senior judge Mahmoud Mekki as vice president. The fear is that Mekki, as a former jurist, might reject rulings by the courts.
3. Egyptians arrested 11 Palestinians in the Sinai over the past two days. CNN writes:
The 11 Palestinians had "entered Sinai illegally through the tunnels and could not return due to our operation and shutting down of tunnels," said the senior security official, who is not authorized to speak about the investigation.
One of those arrested is allegedly involved in weapons dealing, he said, adding that the investigation is ongoing.
Category: Israel Daily News Stream Tags:Iran, Israel Daily News Stream, Sinai, The Guardian
6 Comments
Source material can be found at this site.