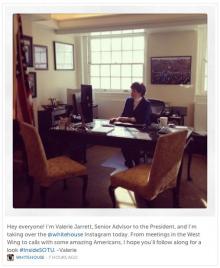 (CNSNews.com) – The U.S. Constitution says the President of the United States "shall from time to time" give Congress "information" on "the State of the Union."
But as President Barack Obama prepares to report to the American people next Tuesday, his White House is turning things around, inviting the American people to report to him.
The White House speech-writing team "has held a series of conversations with the American public about what they hope to hear (emphasis added) in the President's address next Tuesday," top Obama aide Valerie Jarrett said on Thursday.
And in an effort to generate enthusiasm for the speech, the White House is offering the public a "behind the scenes" look at preparations:
"Of course, it's a process that involves a lot of policy experts and writers from around the building — but input and ideas from brilliant folks outside the building are just as important," Jarrett blogged.
She also posted three Instagram photos of people sitting at desks and tables — "to give you a sense of what the process looks like." But as those photos show, speech-writing just is not a visually compelling activity.
Jarrett said all the hard work pays off next Tuesday, when President Obama goes to Capitol Hill.
"Let us know you'll be watching," she said.
Last year, 33.5 million people tuned into watch Obama's fifth State of the Union speech, according to the Nielsen ratings. That was his lowest rating ever for a State of the Union Address — and the lowest rating since Bill Clinton's SOTU in 2000.
In 2012, 37.7 million people tuned in to hear Obama; in 2011, 42.8 million people watched; in 2010, 48 million watched; and in 2009 — Obama's first State of the Union — the audience was around 52.4 million.
The White House is telling fans they don't have to watch the speech on television. Instead, they can tune in to Whitehouse.gov to watch President Obama's address live — with "enhanced with data, graphs and charts that explain the policies and issues he'll be discussing in the speech."
It also says President Obama, in the days following the speech, "will take a virtual road trip across the country via Google+ Hangouts to discuss the issues and policies laid out in the speech."
Obama will give his sixth State of the Union Address to a joint session of Congress on Jan. 28 at 9 p.m.