AFP reports: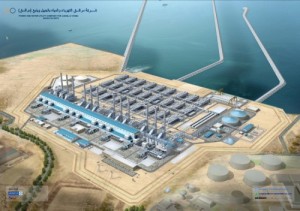 The European Union and UNICEF launched a project Thursday to build a desalination plant in the Gaza Strip to provide 75,000 Palestinians with drinking water.

A joint statement said the project will be implemented by UNICEF thanks to a 10-million-euro ($13.7-million) EU grant.

Just 5.8 percent of Gaza households have good quality water because of increased salinity caused by sewage infiltration of groundwater, according to a statement released Thursday by the Palestinian Central Bureau of Statistics ahead of World Water Day on Saturday.

"Access to clean water is a fundamental human right for all. And yet many Gazans face acute water shortages on a day-to-day basis," EU representative John Gatt-Rutter said as the first stone was laid for the project.

"Others can only access water of very poor quality," he added, saying the new plant "offers the prospect of access to clean water for many thousands of families".

The plant at Deir al-Balah in the center of the territory is expected to become operational in 2015, and will supply fresh water to 75,000 people in Khan Yunis and Rafah in the south.
Who could possibly be against this?
Well, a lot of organizations, actually – and all of them pretend that they care about Palestinian Arabs!
A couple of years ago, when UNICEF put out the bids for the desalination equipment, Gaza unions said they would boycott UNICEF if it allowed Israeli companies to bid on the project. It is unclear if UNICEF caved to their demands, but it shows that politics is more important than public health for Gaza unions.
But they are not alone.
As AIJAC pointed out recently, an entire consortium of Palestinian Arab NGOs have come out against the concept of desalination in Gaza.
Yes, you've read that right.
The consortium, EWASH, wrote:
…The undersigned organizations would like to voice their concerns regarding the implications of seawater desalination for Gaza as well as the challenges facing it:
1. Perpetuating the status quo while accommodating the occupation...
2. Increasing the isolation of Gaza whilst enabling Israel to ignore its obligations…
3. Increasing the vulnerability of the civilian population of Gaza…
4. Desalination plant requires significant amounts of electricity which Gaza does not have…
5. Seawater desalination plant is environmentally unsustainable, which will further deteriorate the already deplorable environmental situation in Gaza…
6. Further sustainable and right-based alternative solutions exist…
The "right" they are demanding is for Israel to provide the water to Gaza at a discount.
Isn't it fascinating that "pro-Palestinian" organizations are asking for Gaza to be more dependent on Israel, rather than more independent?
Instead of adding new freshwater to a region that is already in crisis, they want Israel to redistribute the water it has – to its own detriment.
And who are these brilliant NGOs who don't want Gaza to have new sources of fresh drinking water?
Endorsing organizations:

EWASH members:

1. DanChurchAid
2. Applied Research Institute Jerusalem (ARIJ)
3. Polish Humanitarian Action
4. Institute of Environmental and Water Studies – Birzeit University
5. Near East Council of Churches-Jerusalem
6. Middle East Children's Alliance
7. Palestinian Environment NGO Network (PENGON)
8. We Effect – Swedish Cooperative Centre
9. MAAN Development Centre
10. House for Water and Environment (HWE)
11. Palestinian Wastewater Engineers Group (PalWEG)
12. Palestinian Agricultural Relief Committees (PARC)

Other civil society organizations:

13. Al-Mezan Centre for Human Rights
14. The Palestinian Centre for Human rights
15. Media Environmental Centre
16. Palestinian Farmers Union (PFU)
17. Earth and Human Centre for Research and Studies (EHCRS)
18. Palestinian Farmers Association
19. Land Research Centre
20. Institute for water and environment – Al-Azhar University
21. Union of Agricultural Work Committees (UWAC)
22. Palestinian Environment Friends (PEF)
23. Arab Centre for Agricultural Development
Keep this list in mind, because these organizations – including so-called "human rights" organizations – are so obsessed with hurting Israel that they are willing to increase the suffering of Gazans to accomplish it.