John Eligon, a 31 year-old black New York Times reporter who says that he has been racially profiled by police, was mercilessly bullied by the Left Monday into recanting his description of Michael Brown as "no angel."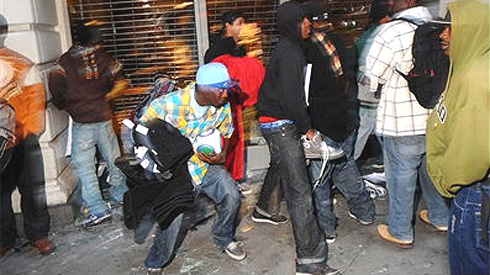 The uproar began Monday morning when Eligon's profile of Brown, the 18 year-old man fatally shot by a police officer in Ferguson, Missouri, hit the front page of the Times. The "no angel" description wasn't used until the fifth paragraph. Still, leftists who are not used to the Times writing anything that might make them uncomfortable, exploded on Twitterand elsewhere.
By any reasonable standard, Eligon's mostly sympathetic profile of Brown backed up the "no angel" description. Brown dabbled in drugs and was caught on video committing what looks like a strong-armed robbery just minutes before his fatal shooting.
Nonetheless, in the online Soviet-style show trial, Eligon was found guilty of an inconvenient truth and recanted:
"I understand the concerns, and I get it," Mr. Eligon said. He agreed that "no angel" was not a good choice of words and explained that they were meant to play off the opening anecdote of the article in which Mr. Brown saw an angelic vision. That anecdote "is about as positive as you can get," Mr. Eligon said, and noted that a better way to segue into the rest of the article might have been to use a phrase like "wasn't perfect."
"Hindsight is 20/20. I wish I would have changed that," he said.
For a week, a mainstream media that knew next to nothing about Michael Brown was still using the term "gentle giant" to describe him. It was wishcasting and they knew it. Then we all saw Brown push around a much-smaller man — the shopkeeper he's accused of robbing. No one was forced to publicly recant "gentle giant."
"No angel" was generous.
But Eligon threatened the narrative in of all place the New York Times and had to be taught a lesson.