#OregonDistrict #update Lt. Col. Carper: at 1:22am active shooter situation began in oregon district. The shooter is deceased. There are 9 others also deceased. At least 16 others went to area hospitals with injuries.

— Dayton Police Dept. (@DaytonPolice) August 4, 2019
An assailant armed with a rifle opened fire in a downtown district of Dayton, Ohio, early on Sunday, killing nine people and wounding at least 16 others in the second deadly mass shooting in the United States in less than a day.
Police said they intervened to end the violence, leaving the shooter dead.
Assistant Police Chief Matt Carper said the incident began at 1 a.m. local time in Dayton's Oregon District, a downtown historic neighborhood known for its nightclubs, bars, art galleries and shops.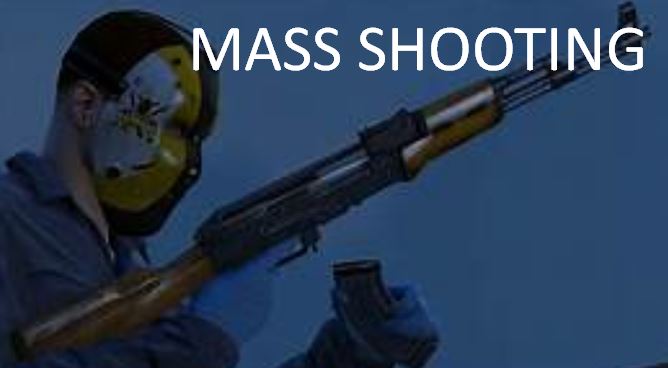 The motive behind the shooting was not immediately clear and that investigators believed the individual had acted alone, Carper said.
Officers who were on patrol in the area reached the scene shortly after the shooting began to confront the shooter, whose identity, age or gender were not immediately disclosed.
"We had officers in the immediate vicinity when this shooting began and were able to respond and to put an end to it quickly," the Dayton Police Department said in a Twitter post.
A total of 10 people were killed, including the assailant. Sixteen others were taken to nearby hospitals for treatment.
FBI agents were assisting in the investigation.
The Dayton Daily News said the shooting occurred at or near an establishment called Ned Peppers Bar.
The newspaper cited a Facebook post from a person identifying himself as someone who was at the bar at the time who said the shooting happened in front of a patio area just outside the establishment.
Video footage posted on social media showed numerous police and fire department vehicles parked in the area.
The shooting in Dayton, a riverfront city of about 140,000 people in southwestern Ohio, followed the mass shooting at a Walmart store in El Paso, Texas, where 20 were killed and 26 others wounded on Saturday morning.
#BREAKING: Even more police presence down by Dublin Pub. Waiting to hear where office scene is. pic.twitter.com/OWpYox1OTQ

— Molly Reed (@MollyR247Now) August 4, 2019
These shooting are a direct results of the years of people raising their kids under the misconception that "everything in life will be perfect, 24/7, 365, and you have a right to never, ever be subjected to any negativity or challenges in life.
Shootings are a symptom of the real issues. The real problems are the loss of a nuclear family the agenda of the LGTB and now pushing transgenderism on children. Young people are brainwashed we don;t even know who is a man or woman anymore this is very confusing to youth.   Parents not disciplining children, participation trophies so kids never have to deal with tiny disappointments, growth in social media so we do not learn even a modicum of empathy. We are losing our civility due to leftism.
A poll also showed more than 20% of millennials surveyed in a YouGov poll released this week claimed that they don't have a single friend. And less than a third of Millennials said they have double-digit friends, according to the data, culled online in early July.