Obama is now the holder of the world record for being the largest funder of terrorism in world history.
The Joint Plan of Action (JCPOA), an interim agreement on the Iranian nuclear program, was signed on November 24, 2013 by the P5+1 countries of Great Britain, Russia, France, China and Germany in Geneva, Switzerland.
On January 21, 2016, The Associated Press covered the World Economic Forum in Davos, Switzerland.  They spoke with then-Secretary of State John Kerry on the sidelines regarding the secretly airlifted $400 million in ransom payments for four Americans held hostage in Tehran and an extra $1.8 billion in interest payments.
Kerry said, "I think that some of it will end up in the hands of the IRGC (Iranian Revolutionary Guard Corps) or other entities, some of which are labeled terrorists."
It was only through the reporting of the Wall Street Journal that Americans even learned of the pallets of cash flown into Switzerland aboard an unmarked chartered aircraft on wooden pallets.  The money was converted into Euros, Swiss francs and other currencies and then flown into Tehran in the dark of night.
The hardliners in the IRGC proved they could get more from the United States than the Iranian diplomats who negotiated the nuclear deal.  Obama was a patsy.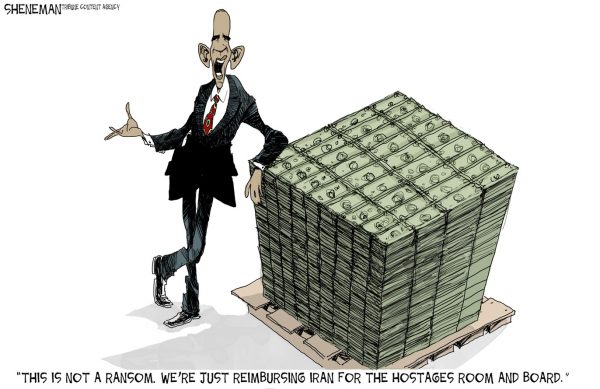 In his address to the nation yesterday President Trump said, "Iran's hostilities substantially increased after the foolish Iran nuclear deal was signed in 2013, and they were given $150 billion, not to mention $1.8 billion in cash.  Instead of saying 'thank you' to the United States, they chanted 'death to America.'  In fact, they chanted 'death to America' the day the agreement was signed."
"Then, Iran went on a terror spree, funded by the money from the deal, and created hell in Yemen, Syria, Lebanon, Afghanistan, and Iraq.  The missiles fired last night at us and our allies were paid for with the funds made available by the last administration.  The regime also greatly tightened the reins on their own country, even recently killing 1,500 people at the many protests that are taking place all throughout Iran."
Thankfully, Ayatollah Ali Khamenei's boastful "slap in the face" after Iran fired missiles at U.S. troop bases in Iraq overnight on Tuesday turned out to be embarrassingly impotent.  Iran managed to kill more people during Soleimani's state funeral than it's "severe revenge",