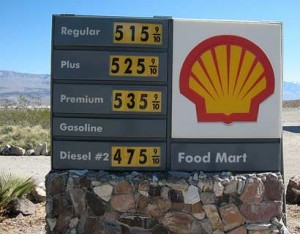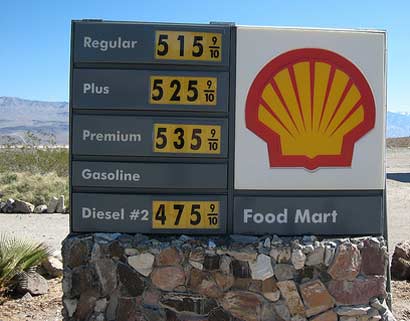 CHICAGO (CBS) – At one time, $5 per gallon gas seemed like a farfetched idea, but that is no longer the case.
As CBS 2's Roseanne Tellez reports, as of Monday, the average price for a gallon of regular unleaded gasoline in the Chicago area is $4.11, compared with $3.71 a month ago, and about $3.10 a gallon at this time a year ago.
Some experts say $5 per gallon gas is possible by Memorial Day.
Drivers Monday morning were practically numb to the price spikes.
"What are you going to do?" said Shannon Thompson. "We've become so gas-dependent in this country. There are so many SUVs. I mean, I've had a hybrid. It worked great. Right now, I'm just going to deal with it." Consider the increased cost of getting products to grocery stores, delivery of mail, ships crossing the sea's with imported goods or products to your local mall, the cost of everything goes up.
Prices at some gas stations were as low as $4.09, a bargain compared to the $4.29 at some service stations downtown.
"It's painful," said Lamar Magee. "You've got to make a decision on where you drive and where you go nowadays." He said he is "definitely" making changes to his routines.
Magee says it will cost him about $120 to fill up the 30-gallon tank on his van.
But even that pales in comparison to the big rigs. Truck driver Mark Kanarowski says his truck holds 200 gallons.
"It's got to be a huge expense for the company," Kanarowski said. "I went to St. Louis over the weekend to fill up my own car, and I was paying about $4.13 a gallon. It hurts."
A limo driver shared his thoughts as he filled up his tank at the Des Plaines Oasis.
"Normal-sized tank, big price – when you get done at the pump, it's killingbusiness, and a lot of one-way trips now," he said, "like I'm going to get somebody this morning, and I'm not bringing him home. His wife will probably bring him home, because everyone's trying to save a little bit here, a little bit there."
The Lundberg Survey says the national average for a gallon of regular unleaded as of Monday was $3.76. That is up 19 cents since March 18, and up 91 cents since this time last year.
The sharply rising prices hearken back memories of the summer of 2008.
That year, oil prices were driven well above $100 per barrel, and in June of that year and gas prices were well over $4 a gallon. The highest record price was $4.34 per gallon, set July 2008.
No one is eager to break that record. But with no end in sight to the turmoil in the Middle East, analysts say we're likely to do just that – and just as holiday travelers hit the highways for Memorial Day weekend.