Canada has had one of the most liberal immigration policies in the world, welcoming tens of thousands of asylum applicants who claim to be fleeing persecution in their violent homelands, many of those from the Middle East.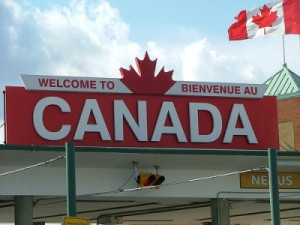 Canada's new Conservative government has begun rolling up the welcome mat, stepping up efforts to track down and deport thousands of asylum-seekers whose applications have been denied.
The clampdown is likely to be felt not only across Canada, but in the United States and many of the seekers may escape to the US from the mostly unchecked border with Canada.
The previous problem with Canada's current immigration system is quite simple. It's that the number of people admitted to Canada on both a permanent and temporary basis is way too high — from a long-run structural point of view, not to mention from a short-run cyclical point of view.
There is a growing body of evidence indicating that terrorist groups have been operating effectively in Canada by taking advantage of Canada's liberal immigration and political asylum policies and the porous Canadian-American border.
Algerian terrorist Ahmed Ressam was caught trying to cross the Canadian-American border at Port Angeles, Washington, with explosives in his car. Ressam belonged to a Montreal-based terrorist cell thought to be linked to both the Algerian terrorist group Armed Islamic Group (GIA) and Al Qaeda.
Egyptian-born longtime Canadian resident Ahmad Sa'id Al-Khadr left Toronto for Pakistan to become the regional coordinator for the Canadian-based Human Concern International, a charity that has allegedly diverted funds to Al Qaeda.
The U.S. is currently holding a Canadian Mohammed Mansour Jabarah, who, according to U.S. officials, admitted involvement in a series of Al Qaeda plots in Southeast Asia. Jabarah's brother, Abdulrahman Mansour Jabarah, was killed in July 2003 by Saudi authorities in a firefight near the Jordanian border.
An Al Qaeda plot to bomb the U.S. Embassy in Paris also had a Canadian element to it. In June 2002, Canadian authorities arrested Algerian-born Montreal resident Adel Tobbichi, a.k.a. Amine Mezbar, who allegedly altered passports and other documents to allow members of the embassy conspiracy cell to travel throughout Europe. He was extradited to the Netherlands in July 2002.
Muslim terrorist Mohammed Hassan Dbouk and his brother-in-law Ali Adham Amhaz, received money from Hezbollah officials in Lebanon and engaged in credit card and banking scams in Canada in order to finance the purchase in Canada and the U.S. of night-vision goggles, global positioning systems, stun guns, laser range finders and other military items which were then smuggled into Lebanon and provided to Islamic terrorist.
In order to limit possible terrorist threats conservative Canadians are going to limit asylum seekers with the most dramatic change is set to take effect at the end of this June, with a $540-million "balanced refugee reform" program designed to speed up the asylum review process and start slicing through a backlog of more than 42,000 refugee cases, many of which have been awaiting a decision for years.
"This new immigration policy about to become a staging inventory for potential illicit entry into the United States," said Richard Kurland, an immigration policy analyst and attorney in Vancouver.
The Obama administration said that asylum claimants who are denied refugee protection in Canada will not be automatically turned away at the U.S. border, despite a 2004 agreement between the countries that bars new arrivals in either from entering the other to claim asylum.