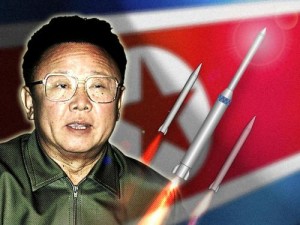 North Korea again defied the international community today by launching a Unha-3 rocket, which is the same vehicle as its Taepo Dong-2 ICBM. Despite North Korean claims that the launch was of a civilian satellite, it is a clear violation of UN Security Council Resolutions.
The U.N. Security Council (UNSC) presidential statement, passed after North Korea's April  2012 launch, judged that "any launch that uses ballistic missile technology, even if characterized as a satellite launch or space launch vehicle, is a serious violation of Security Council resolutions 1718 (2006) and 1874 (2009)."
North Korea claimed that the launch had successfully put a satellite into orbit. Pyongyang made similar claims after earlier failed attempts. The United States and its allies have not yet issued formal assessments of the latest missile flight. However, the North American Aerospace Defense Command stated, "Initial indications are that the missile deployed an object that appeared to achieve orbit."
If North Korea was able to put a satellite in orbit or even if the rocket went much further downrange than the 2,500 miles achieved in 2009, it would represent a significant new security threat to the United States. Then-Chief of the General Staff of the Korean People's Army Ri Yong-ho boasted several months ago that North Korea had nuclear weapons that could be installed on a missile capable of striking U.S. territory.
The international community must take firm action against North Korea's provocative act. The April 2012 UNSC statement affirmed the council's "determination to take action accordingly in the event of a further [North Korean] launch or nuclear test." South Korean diplomats at the same believed the Security Council had agreed to an "automatic trigger" for new sanctions after the next missile launch.
The U.S. and its allies should now press for another UNSC condemnatory statement that closes existing loopholes and imposes additional sanctions on North Korea. The debate in the U.N. will be a test for U.S. Ambassador to the U.N. Susan Rice and, indeed, the Obama Administration's China policy, since Beijing has been the principal roadblock to meaningful action. China blocked any meaningful U.N. action in 2010 in response to North Korea's two acts of war against South Korea and Pyongyang's unveiling of a uranium enrichment facility.
Washington and its allies should submit a new U.N. Security Council resolution requiring more extensive sanctions on North Korea for yet another U.N. violation. The resolution should invoke Chapter VII, Article 42, of the U.N. Charter, which allows for enforcement by military means. This would enable naval ships to intercept and board North Korean ships suspected of transporting precluded nuclear, missile, and conventional arms, components, or technology.
The U.N. should more forcefully enforce sanctions against North Korean and other foreign violators by sanctioning additional banks, businesses, and government entities that are violating the U.N. Security Council resolutions. After the April 2012 North Korean missile launch, the U.S. proposed that approximately 40 new entities be added to the sanctions list, but China vetoed all except three.
The United States should also lead an international effort targeting North Korean and foreign financial institutions facilitating North Korean nuclear and missile proliferation as well as Pyongyang's illegal activities — such as currency counterfeiting, drug smuggling, and money laundering.
U.S. penalties against North Korean accounts in Macau-based Banco Delta Asia in 2005, in conjunction with sub rosagovernment efforts, had a chilling effect on Pyongyang. Though derided at the time by congressional critics as undermining nuclear negotiations, senior members of the Obama Administration later admitted the actions were very effective and it had been a mistake for the Bush Administration to abandon them.
The United States should encourage South Korea to deploy a multilayered missile defense system. This system should be interoperable with a U.S. regional missile network to provide for a more coherent and effective defense of allied military facilities and the South Korean populace. The U.S. should also encourage Seoul to engage in trilateral missile defense cooperation and exercises with the U.S. and Japan.
Source material can be found at this site.