A Neturei Karta rabbi was assaulted by a Muslim man in the Dutch capital Amsterdam on Sunday, Channel 2 News reported.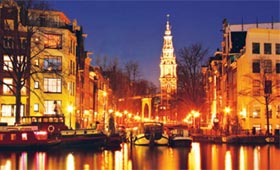 The man, Rabbi Yosef Antebi, 50, has been hospitalized, the report said.
A friend of the rabbi told Channel 2, "As he was walking down the street, a car stopped next to him, and a man who appeared to be a Muslim immigrant came out. The immigrant started shouting anti-Jewish slurs at the rabbi. Rabbi Antebi is anti-Zionist, he does not advocate for war in the Middle East but he was identified as a Zionist. The Muslim started yelling at him and threatening him, and the rabbi noticed that the immigrant was going to attack him."
At this point, the friend said, Rabbi Antebi asked passersby to help him, but was ignored.
"He tried to escape, and the Muslim began to run after him, caught him and started kicking him in the stomach and lungs," said the friend. "He felt that he could not breathe, collapsed, began to vomit blood, while the immigrant spat on him. After the attacker fled the scene, Rabbi Antebi recovered a bit and managed to photograph him."
Rabbi Antebi is a former Israeli who became newly religious 20 years ago, reported Channel 2.
After the attack, police arrived and gathered evidence. Investigators, said Rabbi Antebi's friend, are trying to locate the attacker and have questioned the rabbi at the hospital.
The Israeli Foreign Ministry told Channel 2 News that they were not familiar with the incident.
Neturei Karta, a fringe cult of Judaism, opposes the establishment of the State of Israel.
They often win international headlines despite their tiny percentage of world Jewry. Members of the cult have in the past met with former Iranian President Mahmoud Ahmadinejad, who publicly called to wipe Israel off the map.
Source material can be found at this site.