House Speaker John Boehner (R., Ohio) is sending a letter to President Barack Obama criticizing his level of consultation with lawmakers about potential military action against Syria and demanding a clear explanation of any mission in advance of its start, The Wall Street Journal reports.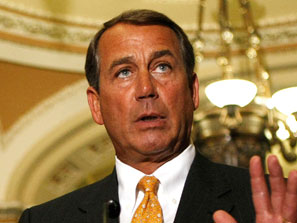 Separately, 114 House lawmakers—some 97 Republicans and 17 Democrats—have signed a letter calling on Obama to seek congressional authorization before embarking on military action in Syria.
Together, the letters mark an intensification of pressure on Obama to consult with Congress about the potential move against Syria for the regime's alleged use of chemical weapons.
Boehner's letter calls on Obama to inform Americans and members of Congress of his objectives, policy goals and overarching strategy in Syria before the first missiles are launched, according to a copy reviewed by The Wall Street Journal.
Boehner also asks Obama to address the cost of a potential mission and to provide the White House's legal justification for the use of force in Syria, including why administration officials believe none of the military options under consideration require congressional approval.
"[I]t is essential that you provide a clear, unambiguous explanation of how military action . . . will secure U.S. objectives and how it fits into your overall policy," he wrote.
Boehner called on Obama to "personally make the case to the American people and Congress for how potential military action will secure American national security interests, preserve America's credibility, deter the future use of chemical weapons, and, critically, be part of our broader policy and strategy."
He added that leaders of national security committees in Congress have received "initial outreach" from senior Obama administration officials. He wrote that "while the outreach has been appreciated" it had "not reached the level of substantive consultation."
Obama is expected to order military action in Syria in coming days in response to President Bashar Al-Assad's alleged use of chemical weapons in the civil war there. Obama has been reluctant to engage in the Syrian conflict but had declared the use of chemical weapons a "red line" that would prompt action.
The White House says the goal of any action would not be regime change in Syria but to respond to the alleged use of chemical weapons, which it argues presents a national security issue to the United States.
An aide to Boehner warned the White House earlier this week that it must consult with congressional leaders before taking any military action in Syria.
Boehner spokesman Brendan Buck said in a blog post that President Barack Obama was obligated to "consult with Congress on the options he sees as a viable response."
"This consultation has not yet taken place, but it is an essential part of the process," Buck wrote. "And meaningful consultation should happen before any military action is taken."
Meanwhile, the United States and Britain have come under pressure to delay military intervention in Syria, with United Nations Secretary-General Ban Ki-Moon urging both countries to hold fire.
Speaking at a press conference at The Hague, Ban called to give UN inspectors more time to examine the scene of the chemical weapons attack near Damascus last week.
He said that the inspectors needs at least four days to conduct tests, and further time to finish analyzing the results. Once that is done, the matter should be taken to the UN Security Council, he added.
Source material can be found at this site.