In Washington D.C., a sparse five residents have been able to enroll in a health insurance plan provided by the Affordable Care Act—making the cost to taxpayers per enrollee a whopping $26.7 million.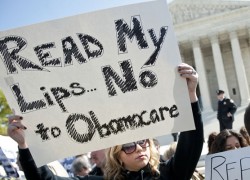 According to data released by Senators Orrin Hatch (R-UT) and Chuck Grassley (R-IA), the three major carriers in the D.C. exchange only signed up a few each; a fourth signed up no one.
Care First, Blue Cross Blue Shield: two enrollees from Oct. 1, 2013, through Oct. 30, 2013.

Kaiser Permanente: three enrollees from Oct. 1, 2013, through Oct. 31, 2013.

United Healthcare: no enrollment data from the exchange as of Nov. 4, 2013.

Aetna: No enrollment data as of Oct. 24, 2013.
The Centers for Medicare & Medicaid Services have posted the amount of grant money given to the D.C. exchange. The total from these publicly-released figures are $133,573,928: $72,985,333 for an "Establishment Grant Level Two Application Summary," with an "Administrative Supplement Award Amount" of $16,969,089; $8,200,716 and $34,418,790 awarded separately for an "Establishment Grant Level One Application Summary;" and $1 million for s "State Planning Grant."
This means that the cost to the American taxpayers per enrollee in D.C. has been $26,714,785.60 each.
Recent accounting of the Delaware exchange similarly found that it cost taxpayers one million dollars each for that state's four Obamacare enrollees.