French President Francois Hollande has landed in Israel Sunday with an entourage for his first official visit. Hollande will be here for 3 days, where Iran is likely to be the main issue under discussion in meetings with Prime Minister Binyamin Netanyahu.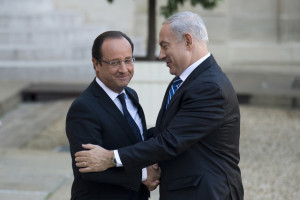 AFP reports that Hollande was welcomed on the red carpet by his Israeli counterpart Shimon Peres and the PM, with whom he will hold talks later in the day. Hollande, who is flatlining in opinion polls at home, will also use his three-day visit to try to boost trade with the Jewish state, which stood at 2.3 billion euros ($3 billion) in 2011.
Both national flags snapped in the wind as the delegation stood to attention for their respective anthems, the carpet lined with dark-suited Israeli ministers and dignitaries.
During the visit, he will lay a wreath at the grave of Theodor Herzl, the founder of modern political Zionism, and also go to the Yad Vashem Holocaust memorial. He will also visit the Knesset and give a speech on the Knesset plenum.
Israel has placed Hollande's visit as a matter of great importance this week, following France's support of Israel's stance on a possible Iran deal, which Netanyahu views as "a bad deal" and highly dangerous to both Israel and the world.
France is an important ally after reports swirling of a falling-out between traditional allies Israel and the US over the issue. While most Israelis believe that the IDF could handle a strike against Iran on its own, international support is still crucial for formulating emergency plans for the region and preventing a possible nuclear war.
Knesset Speaker Yuli-Yoel Edelstein stated upon Hollande's arrival, "it is a great honor for the Knesset to host the President of France, who is one of Israel's closest friends."
"The French President is a close friend and I am happy that he chose to address the nation of Israel from the Knesset plenum," he continued. "I believe that the visit will be very meaningful for both countries."
French President Francois Hollande reiterated on Sunday evening that his country would never tolerate nuclear proliferation, AFP reports.
Speaking in a news conference with Prime Minister Binyamin Netanyahu, hours after he arrived in Israel for his first official visit as France's president, Hollande laid out four demands which he said must be in place for any deal with Iran to be successful.
"France is in favor of an interim agreement but on the basis of four points," he said, according to AFP.
"The first demand: put all the Iranian nuclear installations under international supervision, right now. Second point: suspend enrichment to 20 percent. Thirdly: to reduce the existing stock," added Hollande.
"And finally, to halt construction of the Arak (heavy water) plant. These are the points which for us are essential to guarantee any agreement," he declared.
Hollande's visit to Israel comes days after talks between Iran and world powers in Geneva ended without a deal, largely in part thanks to France's firm stance on the issue. Talks are to resume on Wednesday.
Israel has warned the international community it was likely to reach a better deal by keeping the sanctions in place or even ratcheting them up.
Speaking at the same news conference, Netanyahu said, "I'm concerned, gravely concerned, that this deal will go through and in one stroke of the pen, it will reduce the sanctions on Iran — sanctions that took years to put in place — and in return for this, Iran gives practically nothing."
"It's clear that this agreement is good only for Iran and that it's really bad for the rest of the world," he added. "Iran's dream deal is the world's nightmare."
Hollande said earlier that "a true agreement will be possible only if Iran gives up on nuclear weapons forever."
Hollande, who travels Monday to Ramallah to discuss the peace talks which have limped along for three months with little signs of progress, also said France expects Israel to make "gestures" over its construction in Judea, Samaria and Jerusalem.
"Some gestures have already been started by Israel," he said, referring to Israel's release of terrorists. "Other gestures are expected, especially in the area of settlements."
Referring to the peace talks, Netanyahu said earlier Sunday he was waiting for PA concessions to move the talks forward.
"They're not frozen. We're talking," the Israeli leader said on CNN's "State of the Union" program. But "it's time to talk about Palestinian concessions, too. Like recognizing the Jewish state," Netanyahu said.
"You want us to recognize the Palestinian state for the Palestinian people. How about recognizing the Jewish state for the Jewish people," he said.
Last week, the entire PA negotiating team resigned in protest against continued Israeli construction of homes in Jerusalem, Judea and Samaria.
A day earlier, Israel canceled plans to build 20,000 new homes in Judea and Samaria, hours after their announcement sparked US and PA criticism.
Source material can be found at this site.