Police say violent rioters have been arrested as pro and anti-Trump demonstrators riot in Berkeley Saturday. Two simultaneous demonstrations were planned for Civic Center Park.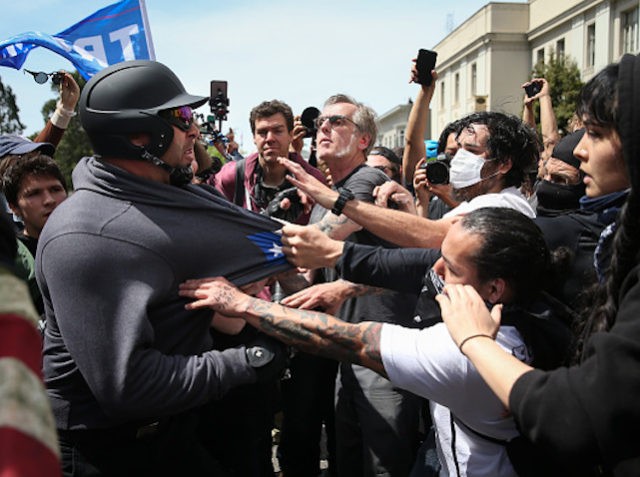 The Riots have since taken over Center Street and Allston Way between Milvia Street and Martin Luther King Jr. Way. The downtown Berkeley BART station has also closed as a result.
Police say a large number of brawls have occurred and numerous firework like bombs have been thrown in the crowds. There have also been numerous reports of pepper spray being used in the crowd.
Photos from the scene Saturday morning showed police dressed in full riot gear. In anticipation of the event, police had already informed demonstrators about a long list of items that were banned from the event, such as metal pipes, baseball bats, poles and bricks and guns.
Police officers from Oakland have come to the city's aid in order to stop the fascist leftist from destroying the city entirely.
Soros backed leftist Organizers have promoted Saturday's riots as a follow-up to an unpermitted March 4 riot, when numerous people were hurt due to violence.
Journalists at the scene reported that police had deployed tear gas to break up fights.
Videos show Trump supporters being beaten in the streets by Fascist leftist as police failed to keep the riots at bay.
Several black-clad Leftist rioters cornered a lone Trump supporter and pummeled him with fists and feet.
Someone jumped in and clubbed him with a skateboard.
Here's the video: