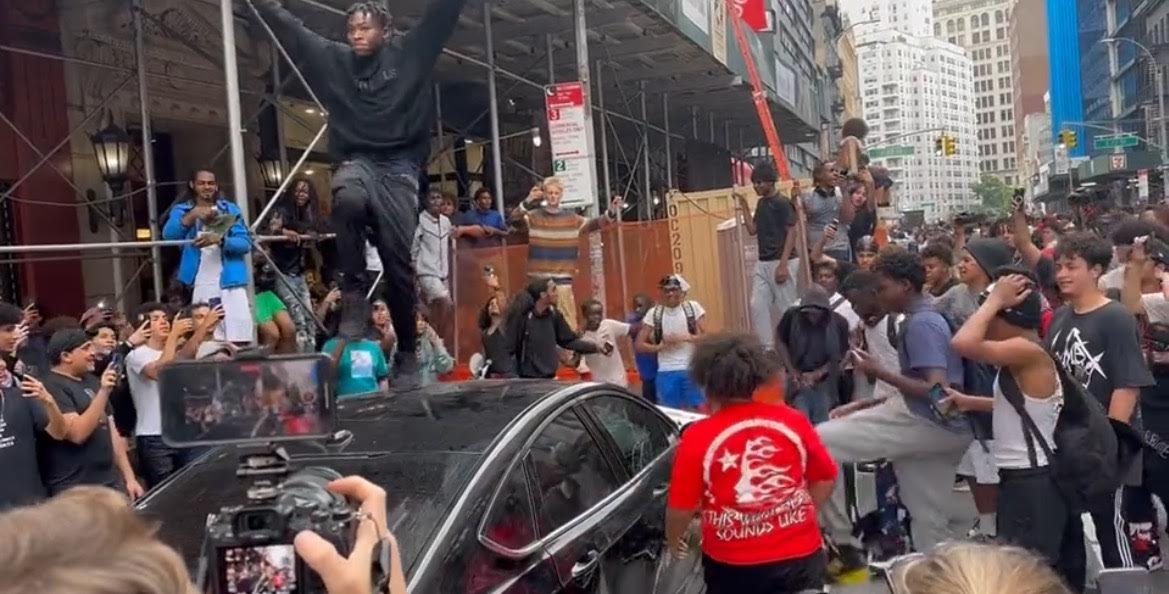 A YouTube star and 65 rioters were arrested in New York City on Friday after violence erupted over a PlayStation.
A massive riot broke out Friday afternoon right before a social media streamer planned a PlayStation giveaway in Union Square Park.
YouTube star and Twitch streamer Kai Cenat was arrested and charged with inciting a riot.
NYPD arrested 65 rioters – 30 were juveniles.
Shocking video footage of the riot and violence were posted online.
Dude accidentally ? himself in the arm at the Union Square twitch riot ?

Hope it was worth it. pic.twitter.com/j3YdVoQD7q

— Eric Spracklen?? (@EricSpracklen) August 4, 2023
Rioters damaged parked vehicles.
Chaos in Union Square right now as cops try to squash a riot pic.twitter.com/me1FzJs0Rq

— Steven Vago (@Vagoish) August 4, 2023
Multiple people were being assaulted during the riot.
WATCH:
#BREAKING Multiple people being assaulted and injured during a riot caused by a gathering for streamer Kai Cenat at Union Square Park in NYC pic.twitter.com/8gz4PGHUvq

— Fast News Network (@fastnewsnet) August 4, 2023
ABC 7's eye in the sky view:
BREAKING ? Riot breaks out at Union Square Park in New York City after Twitch streamer Kai Cenat organize massive giveaway pic.twitter.com/KzcqywaCZX

— Insider Paper (@TheInsiderPaper) August 4, 2023
Source material can be found at this site.