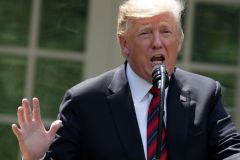 (CNSNews.com) – President Donald Trump presented his proposal to overhaul the immigration system in what is considered the first major overhaul of the United States' legal admissions policy in 54 years, by abolishing the visa lottery system and prioritizing highly skilled and educated immigrants over low-skilled labor.
Calling the proposal "pro-American, pro-immigrant, and pro-worker," Trump said his plan "achieves two critical goals" – stopping illegal immigration and securing the border. "And, second, it establishes a new legal immigration system that protects American wages, promotes American values, and attracts the best and brightest from all around the world."
The president's plan "expedites relief for legitimate asylum seekers by screening out the meritless claims."
"If you have a proper claim, you will quickly be admitted. If you don't, you will promptly be returned home. Crucially, our plan closes loopholes in federal law to make clear that gang members and criminals are inadmissible. These are some of the worst people anywhere in the world — MS-13 and others. Inadmissible. Not coming in. We're taking them out all the time by the thousands, a year, but they come in. They are no longer admissible, and for criminals already here, we will ensure their swift deportation," Trump said during the Rose Garden press conference.
Each year, 1.1 million immigrants are granted permanent legal residency, the president said. "These green card holders get lifetime authorization to live and work here and a five-year path to American citizenship. This is the most prized citizenship anywhere in the world, by far."
Under the current system, Trump said, 66 percent of legal immigrants are admitted at random, but this selection process "is contrary to American values and blocks out many qualified potential immigrants from around the world who have much to contribute."
"While countless — and you wouldn't believe how many countries, like Canada, create a clear path for top talent. America does not. Under the senseless rules of the current system, we're not able to give preference to a doctor, a researcher, a student who graduated number one in his class from the finest colleges in the world — anybody," he said.
"If somebody graduates top of their class from the best college, sorry, go back to your country. We want to keep them here. Companies are moving offices to other countries because our immigration rules prevent them from retaining highly skilled and even, if I might, totally brilliant people," Trump said.
The United States discriminates against "genius" and "brilliance," he said, but "we won't anymore once we get this passed, and we hope to get it passed as soon as possible."
Only 12 percent of legal immigrants are chosen based on skill or merit, while in countries like Canada, Australia, and New Zealand, Trump said, the number is closer to 60 percent, 70 percent, and in some cases 75 percent.
"The biggest change we make is to increase the proportion of highly skilled immigration from 12 percent to 57 percent, and we'd like to even see if we can go higher. This will bring us in line with other countries and make us globally competitive. At the same time, we prioritize the immediate family of new Americans — spouses and children," the president said.
Source material can be found at this site.