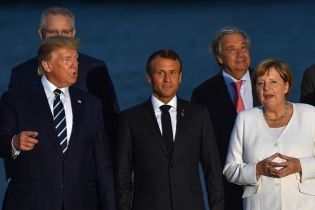 (CNSNews.com) – President Trump said Monday it would be "better to have Russia inside the tent than outside the tent" of the world's leading industrialized countries, arguing that if President Vladimir Putin had been in the room during the just-ended G7 summit, the leaders could have solved several issues that are instead now "in limbo."
Speaking to reporters at the end of the summit in Biarritz, France, Trump recalled that at one point during Sunday's meetings, the leaders had been "discussing four or five matters, and Russia was literally involved in all of those four or five matters."
"And a few of the people looked up and said, you know, 'Why aren't they here talking to us about it?'"
"We had a lot of things that we were discussing and it would have been very easy if Russia was in the room. If he was in the room, we could have solved those things. Now they're just in limbo …"
The U.S. has assumed the rotating leadership of the G7, and Trump will host next year's annual summit. He has given strong indications that he will invite Russia, which was suspended from the then Group of Eight in 2014.
A reporter pointed out that the 2020 summit will be held just months before the U.S. elections, and asked whether Trump was not worried that inviting the Russians might "hurt' him politically.
"I don't care politically. I really don't," he replied. "A lot of people don't understand this."
Predicting that he would win a second term "based on the polls that we see," Trump continued, "Whether I win or not, I have to do the right thing. So I don't do things for political reasons."
He asserted that others at the G7 also felt Russia, "which is a power," should be allowed to return to the forum.
"There were numerous people during the G7 that felt that way," he said. "And we didn't take a vote or anything, but we did discuss it. My inclination is to say yes, they should be in."
Trump attributed Russia's suspension to President Obama's embarrassment at having been "outsmarted" by the Russians when Putin annexed Ukraine's Crimea peninsula in March 2014.
"It was very embarrassing to him and he wanted Russia to be out of the, what was called the G8, and that was his determination," he said:
President Putin outsmarted President Obama. And I can understand how President Obama would feel. He wasn't happy, and they're not in for that reason."

I think it would be better to have Russia inside the tent than outside the tent. Do we live either way? Yes, we live either way. Is it politically popular for me to say that? Possibly not. I think a lot of people would agree with me, frankly, but possibly not. I do nothing for politics and I know a lot of you, you're going to smile at that.

I do nothing for politics. I do what's right and people like what I do, and – but I just do what's right. If I wanted to go strictly by politics, I'd probably poll that and possibly I'd say, 'Oh gee, I don't want, I don't want Russia in,' but I really think it's good for security of the world, it's good for the economics of the world.
'Remarkable economic and democratic transformation'
The G7 are the United States, Britain, Canada, Germany, France, Italy, and Japan.
The Guardian in Britain quoted an unnamed European diplomat as saying that most of the other G7 leaders had not gone along with Trump on Russia's return to the G7, insisting that Putin did not belong in "a community of liberal democracies."
The forum began in 1975 as a group of six countries (Canada joined a year later) which in a founding declaration described themselves as each leading "an open, democratic society, dedicated to individual liberty and social advancement."
After the fall of the Soviet Union it was President Clinton who oversaw Russia's step-by-step entry into the group, first inviting then-President Boris Yeltsin to attend a summit he hosted in Denver in 1997.
"We now have an opportunity to integrate Russia, a democratic Russia, into the global economy and into the institutions of the international community," Clinton's national security advisor, Sandy Berger, told reporters on the eve of that summit.
"Russia has taken bold measures to complete an historic transformation into a democratic state with a market economy," an end-of-summit communique stated, and Clinton told reporters afterwards he thought Russia was ready economically and politically to join the group.
Russia attended G7-plus summits over the following four years, and then in Canada in 2002 it was formally inducted into what became the G8, with the other seven inviting Russia to host the summit four years later.
"This decision reflects the remarkable economic and democratic transformation that has occurred in Russia in recent years and in particular under the leadership of President Putin," they declared.
Ironically, Russia's nascent democracy had already begun to erode under Putin, who had succeeded Yeltsin as president in 1999.
In Freedom House's annual Freedom in the World grading based on political rights and civil liberties, Russia had been designated "partly free" every year since the collapse of communism.
But its scores began to slide from 1998 onwards, and by the time Putin hosted the G8 in St. Petersburg in 2006, Freedom House was grading Russia "not free" – a ranking it retains to this day.
By economic measures, too, Russia was not an obvious choice for membership in the group.
At the time Clinton invited it to Denver in 1997, Russia's GDP was significantly below that of the smallest of the seven members, Canada.
If nominal GDP was a criterion for entry, today China and India should be members before Italy, Canada or Russia. (The IMF puts the U.S. in first place, followed by China, Japan, Germany, Britain, France, India, Italy, Brazil, Canada, and then Russia in 12th place.)
Source material can be found at this site.